Report from the Field features 12 stories from around the country of recent SARE grantees who are finding new ways to improve the sustainability of U.S. agriculture. The report also summarizes our total investment in research and education projects since 1988.
The Future of Agriculture Depends on New Faces and New Ideas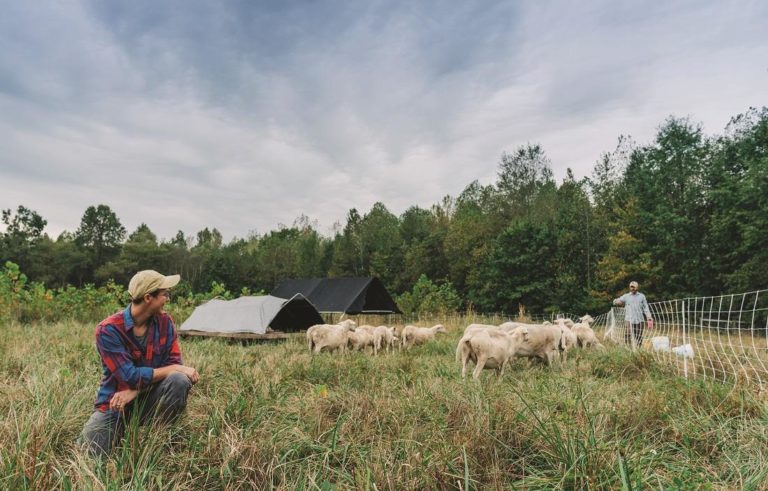 "I grew up on this farm and had no desire to be a farmer," Liz Brownlee says of the 250- acre property near Crothersville, Ind., where her parents spent 15 years raising beef cattle, corn, soybeans and other crops. They got out of farming during the 1980s farm crisis and instead began renting out their land.
Eventually, that feeling changed for Brownlee and for her husband Nate, as they came to see farming as the ideal way to combine a passion for food with an ethic of environmental stewardship. After spending five years working on farms in the Northeast, the Brownlees came home in 2013 and started Nightfall Farm on the family property, where they raise hogs, turkeys, chickens and sheep using rotational grazing practices to sustain the land. They sell meat and eggs through a 50-share CSA, at farmers' markets and directly to area chefs.
Recently, the Brownlees identified access to quality, small-scale meat processing as a barrier to meeting their farming goals. So in 2018, they teamed up with Indiana University specialists and another livestock farm in the area to tackle the issue. Supported by a SARE Farmer/ Rancher grant, they are conducting a feasibility study on creating a small-scale butcher shop capable of serving producers who focus on direct sales.
Today, their ambitions go beyond their pastures. "We're trying to be useful to our community here in Indiana," says Liz Brownlee. That's why they intend to compile and share the business planning documents from their feasibility study: to serve as a resource for other farmers who have a similar need. In addition, the Brownlees are founding members and officers of the Hoosier Young Farmers Coalition, a state chapter of the National Young Farmers Coalition.
For more than 30 years, SARE's mission has been to support the ideas of farmers and ranchers who strive to improve the sustainability of U.S. agriculture. Part of that mission means supporting the next generation of farmers, like the Brownlees.