"As a result of this project, field peas became an established crop in southwest Nebraska, and we built a foundation for a successful and long-term pulse industry."
Strahinja Stepanovic, University of Nebraska-Lincoln
THE CHALLENGE
In semi-arid regions, farmers without irrigation oftentimes conserve precious soil water by rotating cereal crops such as corn or wheat with a period of summer fallow. More recently, though, some farmers in the High Plains have begun to use spring-planted pulse crops as an alternative to summer fallow. Pulse crops are legumes that are harvested for their beans and include chickpeas, lentils and field peas. Replacing fallow with a pulse crop can help farmers cope with weather- and market-related fluctuations by improving soil health and diversifying the crop mix. However, while many farmers in Nebraska are interested in pulse crops, they have been reluctant to adopt them due to a lack of local markets and research-based information on growing pulses in local conditions.
THE ACTIONS TAKEN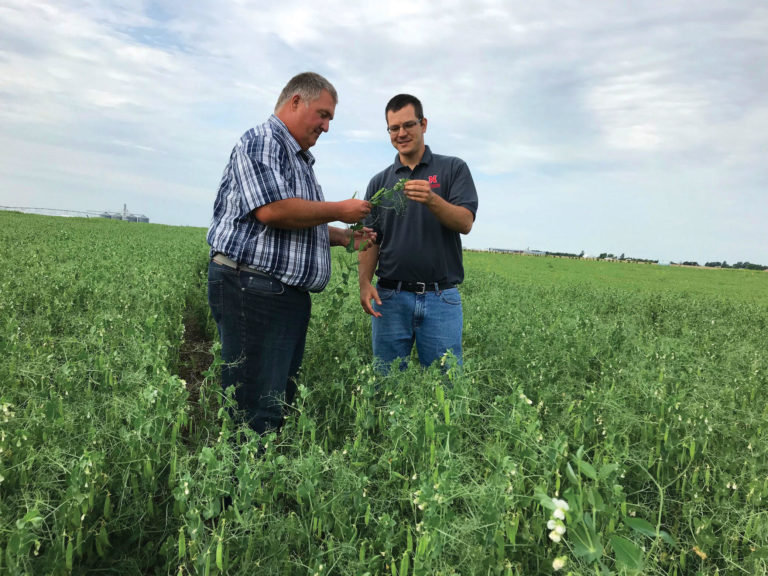 In 2016, University of Nebraska-Lincoln (UNL) Extension educator Strahinja Stepanovic organized a team of researchers and farmers to develop agronomic best practices for growing field peas and to spur farmer adoption. Using a two-year SARE Partnership grant, the team compared the impact of field peas and fallow on water use, soil fertility, wheat yield and profitability. They also conducted variety trials to identify the highest-yielding field pea varieties for the region and looked at optimal planting strategies. Finally, they created educational materials and held workshops to encourage farmers to begin growing field peas.
In 2017, a UNL graduate student, Alexandre Tonon Rosa, received a related SARE grant to work with Stepanovic on using field peas in alternative cropping systems to corn/soybean rotations. Rosa is looking at rotations involving cover crops, forages, field peas and short-season crops.
THE IMPACTS
Stepanovic's team found that in general, field peas are a viable alternative to summer fallow. In their research, field peas improved the soil in multiple ways: They increased both water infiltration and microbial activity, and provided habitat for beneficial insects and microorganisms. An economic analysis found peas were more profitable than summer fallow. Now, the word is getting out. Impacts include:
Valuable knowledge: Thanks to outreach activities, more than 220 farmers gained knowledge about field pea production.
In surveys, they estimated the production value of that knowledge at $15–$30 per acre. An additional 200 farmers reported making a change in their practices as a result of this work.
Widespread adoption: Surveys conducted during the project about Nebraska producers' interest in field peas correlated with a 62% increase in acreage planted to field peas in the state over two years, which rose to 55,000 acres in 2017.
Supporting the local economy: Motivated by this growth in acreage, the number of certified seed dealers in Nebraska increased from two to seven, and three field pea processing facilities opened. Three food brands began offering marketing opportunities to field pea growers.
Visit the database of project reports to learn more about these SARE-funded projects: ONC16-021 GNC18-271.