"[This project] has been an important reminder that effective communication and planning are as key to a successful farm as good books and sound production practices."
A training participant
THE CHALLENGE
Farmers have long relied on agricultural service providers (ASPs) for their technical expertise on a range of issues related to production, marketing and farm management. Yet when it comes to interpersonal skills—another critical aspect of running a successful business—ASPs often feel less qualified to provide meaningful help. Just as farmers require certain skills to raise and market products in a profitable and environmentally sustainable manner, they need skills in communication, decision making, goal setting and time management in order to run successful businesses while maintaining quality of life. Training ASPs to be better at providing guidance on interpersonal skills can greatly increase the value they provide their farmer clients.
THE ACTIONS TAKEN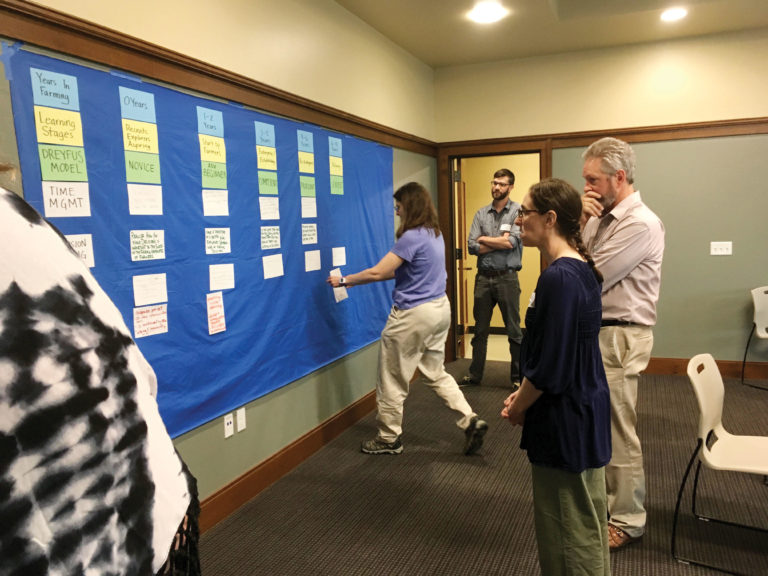 With funding from a SARE Professional Development Program grant, University of Maine Cooperative Extension Human Development Specialist Leslie Forstadt and her team first conducted focus groups with farmers to better understand the interpersonal needs they have at different stages of their farms' development. The team then took what they learned and developed materials, including a toolkit, consultation checklist and other resources, to train ASPs on skills that would help them provide guidance on the issues listed by the surveyed farmers.
Each training focused on improving communication skills, understanding the interpersonal needs of farmers at each stage of their development (from novice to expert), and learning to provide guidance on decision making, goal setting and time management. ASPs were also taught to consider approaching their work from the perspective of a "guide" rather than as an "expert" to improve communication with farmers and to better understand their needs.
THE IMPACTS
Equipping ASPs with this information can help all farmers, particularly beginning farmers, who often need access to a wide range of technical assistance. Specific impacts include:
In-depth training: 53 ASPs were trained through one or more of the project's events: one-and-a-half-day workshops, four working groups and two webinars.
Adoption of skills: 44% of participants who responded to a final project survey indicated an increase in their comfort level in addressing interpersonal skills.
Sharing with farmers: 23 participants who responded to a final project survey (43% of trainees) reported holding a combined 291 one-on-one consultations with farmers who manage a total of 73,855 acres.
Visit the database of project reports to learn more about this SARE-funded project: ENE16-142.