"I no longer lose money on squash. I have a winter CSA so I need profitable winter crops; squash is now a profitable winter storage crop."
Laura Masterson, Oregon farmer "
THE CHALLENGE
Farmers in the Willamette Valley of Oregon with smaller, diversified operations and local markets are increasingly on the lookout for crops they can sell in the off season. Winter squash is a promising candidate. Sales of locally grown winter squash peak by November, then through the winter the majority of squash comes from California and Mexico. Making even a modest dent in this off-season market could collectively gross an estimated $250,000 for local growers, according to Oregon State University (OSU). But production and storage challenges have limited local sales in winter months. For growers to take advantage of this market, they need help managing the soilborne diseases that limit yield, and they need to know which squash varieties have the best characteristics in terms of disease resistance, storage, flavor and marketability.
THE ACTIONS TAKEN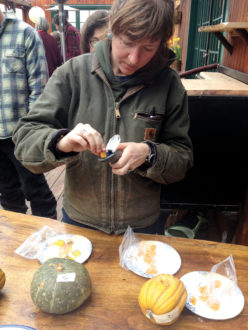 OSU vegetable specialist Alexandra Stone approached this challenge from two angles, with funding from two SARE research grants that involved a combined 22 on-farm trials from 2015 to 2019. In one project, she took on diseases. She and her collaborators, including OSU plant pathologists Ken Johnson and Hannah Rivedal, equipped farmers with knowledge of fungal disease symptoms to aid them when scouting their fields. The team also evaluated a range of management strategies, including the use of disease-resistant varieties, crop rotation and fungicide treatments.
Stone's second project focused on extending the market for winter squash into the winter months. Like her first project, this one involved a multi-pronged approach. Her team first conducted on-farm variety trials to learn which squash were most profitable to grow and store for winter sales. They also worked with local chefs to create recipes and to assess marketable characteristics such as flavor. Then they worked on the consumer end by packaging the information into marketing materials that they shared with area farmers, distributors, retailers and the public.
THE IMPACTS
One squash variety in particular, Tetsukabuto, emerged across both projects as a star. "Farmers are increasingly growing and storing Tetsukabuto for profitable deep winter sales with almost no storage losses, and consumers love them," says Stone. Armed with new information in disease diagnosis, crop rotation, resistant varieties, fungicide use and water management, Willamette Valley farmers now have a range of tools to grow winter squash profitably. Combined impacts include:
More sustainable practices: 87 farmers adopted, or intended to adopt, a new practice based on Stone's research.
Growing consumer demand: The team organized squash festivals in Portland and launched a consumer-facing website, eatwintersquash.com, with recipes and other information.
Looking to the future: The project team received five grants for follow-up activities and established five new collaborations with fellow stakeholders, ensuring their work will continue.
Visit the database of project reports to learn more about these SARE-funded projects: SW15-021 and OW16-008.