"Under normal circumstances I'd lose 80–90% of the corn. Right now I'm losing maybe 7–8%. We developed this to be easy to use and build. It's really promising."
Ken Elliot, Elliot Farm
THE CHALLENGE
For years, Elliot Farm in Lakeville, Mass., struggled with crop damage from red-winged black birds and other bird pests, many of which are protected by the Migratory Bird Treaty Act. In 2016 alone, the farm suffered the loss of 80% of its sweet corn crop to bird damage, amounting to $18,000 in lost product. The usual management techniques—balloons, pyrotechnics, distress calls, repellents— just weren't working. But when farm co-owner Ken Elliot joined a "laser scarecrow" feasibility study funded by a SARE Partnership grant in 2017, it soon became clear that using moving green laser beams to frighten birds could be an effective tool on his family's farm.
However, the prototype used during the study didn't stand up to field conditions, and commercial units available on the market each cost $3,000 or more. Therefore, Elliot wanted to design a reliable, effective and affordable unit.
THE ACTIONS TAKEN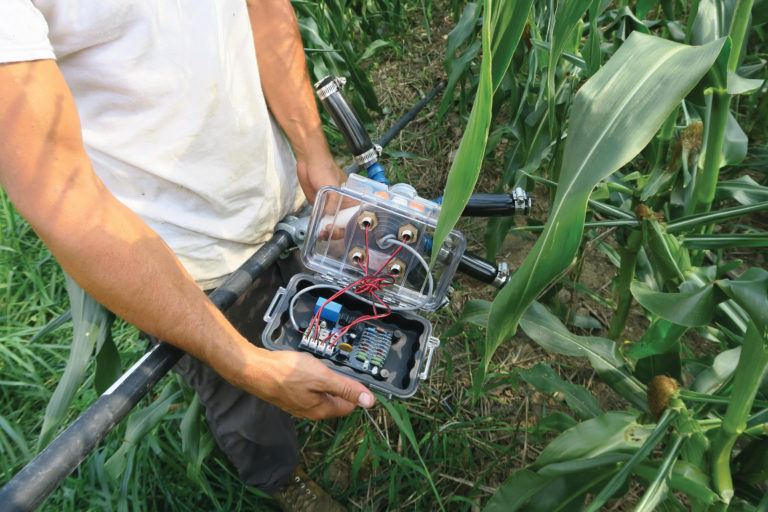 Supported by a SARE Farmer grant, Elliot set out to design and manufacture a laser scarecrow prototype of his own that could be reproduced for under $500 per unit, which would create an affordable pest management strategy for him and other farmers to manage bird-related crop loss. Working with engineers at Wentworth Institute of Technology, Elliot designed a prototype and then tested nine laser units on 40 acres of sweet corn. Pleased with the results, Elliot developed a manual for other farmers to build laser scarecrow units on their farms.
THE IMPACTS
Effective pest control: When using the laser units at the height of bird season, Elliot reported that only 20% of his crop was lost to bird damage, down from 80% without the units. When he installed the units prior to corn ripening and deployed them in conjunction with bird distress calls, crop damage was reduced to just 8%.
Practical knowledge: Elliot's free how-to guide, which includes a parts list and step-by-step instructions for building a unit, is posted online for other vegetable and grain farmers to access. The free guide can be found at deannaelliot.wixsite.com/laserscarecrow.
Getting the word out: Through the 2017 feasibility study that Elliot joined, led by University of Rhode Island Vegetable Specialist Rebecca Brown, 250 regional farmers and service providers learned about this approach. Educators throughout New England have been testing laser units on area farms.
Visit the database of project reports to learn more about these SARE-funded projects: ONE17-291 FNE18-893.