SARE offers competitive grants to fund research and education projects that advance sustainable agricultural practices in the United States.
Who Can Apply?
Farmers and ranchers
Researchers
Extension agents and other educators
Graduate students
Grants are available for projects within the United States and U.S. protectorates only.
Common Questions
Can SARE grants be used to fund projects outside the United States?
No. SARE grants may only be used to fund projects within the United States and its island protectorates.
Can I use a SARE grant to begin a farm?
No. SARE grants are intended for projects involving research and education only, not to defray the costs associated with starting a farm. USDA's Beginning Farmer and Rancher Coordinators can help you get started or grow your farming operation through a variety of programs and services.
Can I use a SARE grant to buy land, equipment, farming materials, animals, etc?
A small percentage of SARE funding may be used to purchase the materials required to conduct a research or education project, but generally SARE funding cannot be used to make large purchases for land, equipment or capital investment. Contact your SARE region for specific rules.
How Do I Apply?
Visit Your Region for More Information
Grants are administered by SARE's four regional offices. Visit the appropriate region to learn which grant type is right for you and to access application instructions.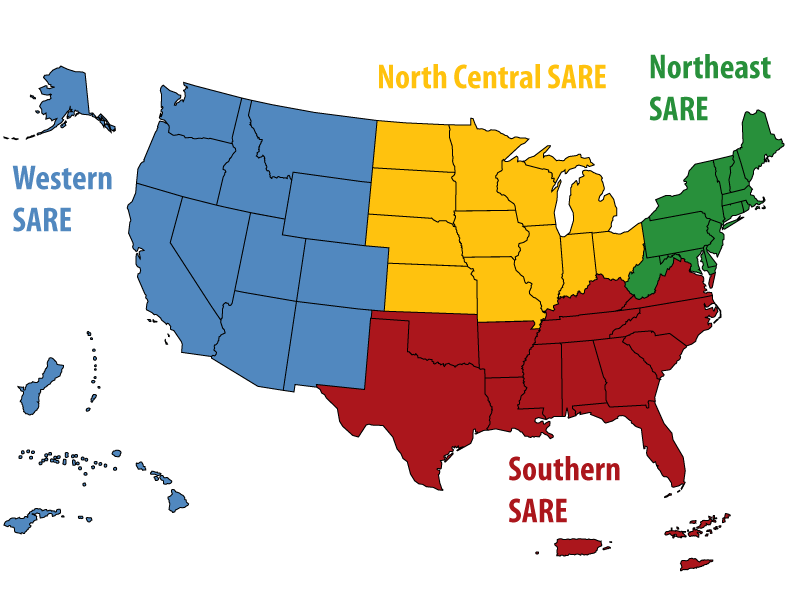 What Projects Are Eligible?
Visit your SARE region for detailed guidance on whether your idea qualifies for a grant, and search our database of project reports. Here are some examples of topical areas that SARE grants can address:
On-farm renewable energy
Pest and weed management
Pastured livestock and rotational grazing
No-till and conservation tillage
Cover crops
High tunnels and season extension
Crop rotations
Marketing
Sustainable communities
Integrated systems
Pollinators
Local and regional food systems
Small ruminants
and more!