"Locally available hardwood mulch not only controls weeds when properly applied, but also helps with water retention, and can help increase production of vegetable crops."
Patrick Johnson, NANIH Farm and Garden
THE CHALLENGE
Weed control can be a constant struggle for organic growers, who cannot use the herbicides typically employed by conventional farmers. In fact, weed control ranks as the number one barrier to organic production and can account for as much as 50% of production costs. Organic farmers practice a variety of methods to fight weeds: cover crops, tillage, solarization, mechanical removal, mulching and organic-approved herbicides. Plastic tends to be the preferred mulch of organic growers, but Patrick Johnson became interested in using a more traditional approach, wood chips, on his urban Virginia farm because it produces no waste and can provide a variety of soil health benefits. However, when it came time to try out the wood chips, Johnson couldn't find research that demonstrated it was an effective strategy on farms like his.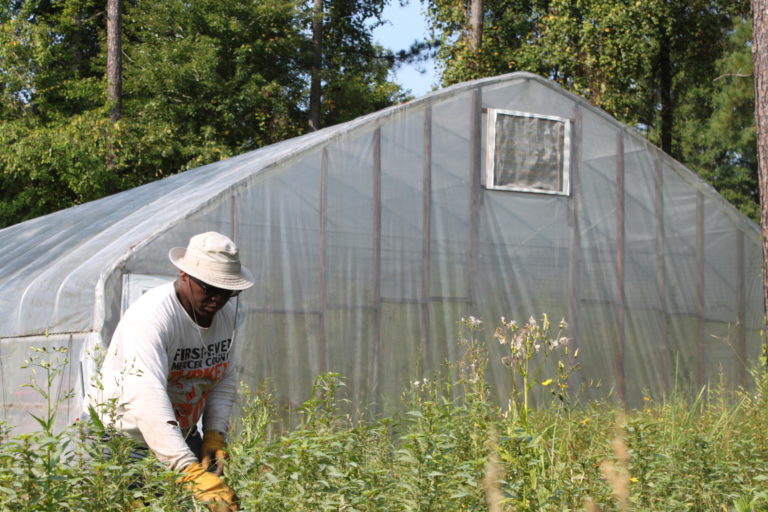 THE ACTIONS TAKEN
Johnson, owner of NANIH Farm and Garden in Sandston, Va., used a 2018 SARE Farmer/ Rancher grant to source locally available single- and double-shredded hardwood bark for a randomized experimental design, which included 20 experimental plots each measuring approximately 200 square feet. Two mulch treatments were applied at a depth of 4 inches and were replicated five times. The control plots received no mulch. The project objectives were to determine differences in weed growth and/or suppression, evaluate changes in water-holding capacity, observe whether soil temperature differs between treatment and control, establish any difference in efficacy between single- and double-shredded wood chip mulch, and identify weed species in the test plots. All plots were rain fed and included multiple vegetables and herbs. Marketable and harvestable yield were recorded for each plot, while weed infestation and identification were determined by observation and random sampling.
THE IMPACTS
Johnson and his team are now confident in the efficacy of wood chip mulch as a sustainable and affordable alternative to plastic mulch and other less sustainable weed-control methods. Specific results include:
Positive results: In the plots treated with wood chips, average weed mass was significantly lower and water-holding capacity was higher than the control plot. Johnson tested two kinds of mulch and found no difference in their effectiveness.
Improved yields: Due to reduced weed pressure, one crop, okra, yielded significantly higher when grown with a wood chip mulch.
Getting the word out: More than 1,500 farmers and educators learned about the project results at conferences and events, through social media or by viewing the team's mulch video online.
Visit the database of project reports to learn more about this SARE-funded project: FS18-308.