The educational materials listed on this page are about Corn.
Field corn is a commodity crop that is grown for many different purposes, especially livestock feed, fuel and further processing for human consumption. Sometimes called  maize cultivation,  cultivating corn is predominant in the Midwestern region. Field corn cannot be readily eaten and must undergo some form of processing first. Sweet corn, on the other hand, is grown for human consumption and can be eaten fresh. Conventional corn, organic corn and no-till corn are all important players in the corn market. Understanding your inputs, acreage and fertility can aid in using a corn yield calculator to determine corn crop. Corn production will vary depending on region, but not necessarily corn production by state. Corn growing is an important part of our agricultural food system. Key practices in corn production include organic agriculture, commodities, agronomic, corn, no-till, conservation tillage, cover crops, crop rotation, nutrient management, drought tolerance, crop improvement and selection.
A key resource to discovering the balance between soil and crop is SARE's book Building Soils for Better Crops. This resource lays the foundation for understanding soil structure, soil fertility and overall soil management in order to improve corn production. SARE's Crop Rotation on Organic Farms: A Planning Manual is a resource for farmers looking to integrate crop rotation into their operation to practice more sustainable methods, and to enhance organic matter and boost production. The Cover Crop Topic Room is a good starting point to learn more about the benefits that cover crops can have on overall soil management to improve corn yield.
Showing 1-20 of 32 results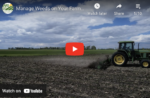 Manage Weeds on Your Farm Video Series
In this series, experienced farmers from around the country talk about how they have found success controlling weeds by following ecological principles, and without resorting to the use of herbicides. To do so, they rely on a range of cultural and mechanical practices, including diverse crop rotations, well-timed cultivation and targeting weeds when they're at […]