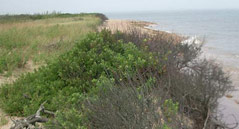 Beach plum (Prunus maritima Marsh) is one of several shrubby plums native to North America. It produces small, distinctively flavored fruit that are collected from the wild along the Northeast coastline for small-scale jam production in home and commercial kitchens. The jams command premium prices at farm stands and specialty markets, even in comparison with jam made from other locally grown fruit. However, the wild-collected supply of fruit does not meet this niche market's demand.
Beach plum naturally occurs on sandy, excessively drained, nutrient-poor sites. This habitat strongly suggests that beach plum has untapped potential as a low-input crop for marginal land. Under seaside conditions, the plant grows very slowly and does not bear fruit every year. However, the beach plum is not limited to sandy soil; it may be planted in any fertile, well-drained soil. Full sun is required for fruit production.
The market for many commodity crops has such low margin that growers struggle to stay profitable, especially in the urbanized Northeastern United States. Some believe that the future of agriculture in this region lies in high-value, niche market crops, especially those with underserved regional markets, and the potential for value-added processing. The existing high value of beach plum products suggests economic sustainability, even at small scale.
Current demand for the fruit exceeds supply by a large margin, due in no small degree to the dwindling number of accessible natural stands and collectors willing to pick. Prior to our work, cultural guidelines for beach plum production were not available. Improved selections have not been systematically tested and are not available in the nursery trade. Production of beach plum to supply a limited high-value niche market may be a viable component of a diversified farm operation. However, future profitability of large-scale production to accommodate the expansion of the market, as with any entrepreneurial venture, remains to be seen.
Geographic Adaptability: Northeastern United States.
Want more information? See the related SARE grant: