A lag time in production for growers has allowed us to explore and expand demand among various market sectors before reliable beach plum yields are available. Work was done in three areas, consumer marketing, gourmet chefs and produce distributors.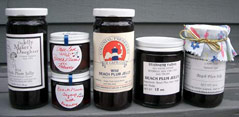 Consumer Focus Group
Wen-fei Uva, Applied Economics and Management, Cornell University, conducted consumer focus group research in New York City in the spring of 2002. The discussions were held at a central interviewing facility in Manhattan, and facilitated by a marketing research consulting firm.
The focus group respondents identified themselves as gourmet consumers. Each respondent was the primary shopper for his/her household and regularly buys specialty, boutique or gourmet jams or jellies.
Various conclusions were drawn from the sessions:
1. Market expansion potential exists for beach plum products among gourmet consumers in coastal metropolitan areas.
2. Special packaging with price is the primary marketing tool to communicate that beach plum products are gourmet, gift-worthy and special.
3. Gourmet jams and jellies are purchased from various independent stores or farm markets, not from supermarkets.
4. Jams or jellies made with cultivated rather than wild beach plums will not impede consumers' interests in trying the product.
5. Consumers' interests in beach plum presents market opportunities for new product development.
Gourmet Chef Interviews
In September 2003, Robert Weybright of the New York State Agricultural Experiment Station led a series of interviews with gourmet chefs in the New York City market. The beach plum concept was presented to: 11 chefs (three bakers and eight executive chefs), one restaurant marketing firm, and two food industry advocate groups. Restaurants interviewed could seat from 50 to 120 customers per night, entrees were priced $30 and up, and chefs favored using locally produced food.
Each chef was given 5 pounds of beach plum fruit to experiment with and invited to share their experiences with us. The chefs were excited about beach plum and, in general, with the process of new crop development. Chefs expressed interest in high quality fresh as well as frozen fruit. They preferred direct purchase through growers and farmers markets, secondarily through specialty purveyors. Concerns and challenges include maintaining a consistent seasonal supply, high fruit quality, adequate quantities and a viable delivery system. Cost and size of fruit was of concern, especially for bakery use where the cost and feasibility of pitting will be an issue. Six dollars per pound was an easily obtained price for frozen/whole fruit. Fresh fruit must be clean and in consistent packing. Frozen fruit would need to be quick frozen (IQF) and stored sub-zero and be of the same quality as mentioned above for fresh fruit. One chef asked to purchase additional fruit from us and added a beach plum sauce to his restaurant menu through the 2003 holiday season.