The educational materials listed on this page are about Energy Conservation/Efficiency.
The conservation of farm energy is important to both its environmental and economic sustainability. For example, efficiency on the farm is particularly important during colder months in order to reduce greenhouse energy use for vegetable farmers. Likewise, farmers growing row crops may find that fuels used to run equipment cut into the cost of production. Agricultural efficiency can be achieved by conducting a farm energy audit to determine the best ways to cut down on energy use. SARE's resources can help you determine the best ways to increase efficiency on your farm. Key practices include byproduct utilization, bioenergy and biofuels, biodiesel, biofuel feedstocks, energy use and consumption, energy conservation/efficiency, renewable energy, solar energy, wind power, geothermal.
SARE's book Building a Sustainable Business helps farmers build both a sustainable and profitable business plan that includes renewable energy and biofuel. The SARE bulletin Clean Energy Farming: Cutting Costs, Improving Efficiencies, Harnessing Renewables helps farmers utilize clean energy practices on their operations, which may include utilizing byproducts for biodiesel production and other renewable fuels. The Farm Energy Audits section of the E3A: Energy Education for Producers curriculum includes information on many operational areas that can see improved agricultural efficiency through the use of a farm energy audit, including equipment, grain drying, irrigation and livestock watering systems, the farm shop, livestock buildings and more. The Farm Energy Topic Room provides a wealth of information on clean energy topics, including biodiesel, farm energy audits, solar and wind energy, and more.
Showing 1-20 of 20 results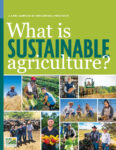 What is Sustainable Agriculture?
This award-winning report provides a sampler of best practices in sustainable agriculture—from marketing and community vitality to cover crops and grazing—as well as eight profiles of producers, educators and researchers who have successfully implemented them.