Farm Energy IQ offers free information to help farmers enhance operational sustainability in the context of the farm economy and ecosystem. Each topic area includes a module overview, Train the Trainer presentation, farmer presentation, and educational materials such as fact sheets, activities, case studies, images, decision support tools, and checklists.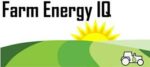 On-Farm Smart Energy Buying and Use
This is part of the Farm Energy IQ Curriculum Series. With the understanding of deregulated energy markets and having an option to buy energy at less expensive times of the day, how can you change your habits to take advantage?
This material is based upon work that is supported by the National Institute of Food and Agriculture, U.S. Department of Agriculture through the Sustainable Agriculture Research and Education (SARE) program. Any opinions, findings, conclusions, or recommendations expressed in this publication are those of the author(s) and do not necessarily reflect the view of the U.S. Department of Agriculture or SARE.