The educational materials listed on this page are about Nutrient Management.
A nutrient management plan is used to manage the application of plant nutrients and soil amendments. Integrated nutrient management may include utilizing variable rate application, soil inoculants, microbial inoculants, biologicals, foliar feeding and proper fertigation techniques and fertigation systems. An understanding of nutrient cycling can also aid in budgeting and supplying nutrients for plant production, while minimizing soil and water pollution. Farmers can harness the power of the nitrogen cycle by using organic fertilizer and manure to supply plant nutrients. Careful nutrient management can also improve the overall condition of soil, especially if your plan includes cover crops. Key practices include biological inoculants, nutrient cycling, fertigation, organic fertilizers, reduced applications, foliar feeding, municipal wastes, cover crops.
Building Soils for Better Crops, a book offered by SARE, helps farmers navigate ecological soil management strategies. A useful bulletin, Smart Water Use on your Farm or Ranch, addresses the role of water in a farm system and in nutrient management. The Season Extension: Fertility Management Topic Room helps producers gain knowledge of effective and proper fertility management techniques, including fertigation, to improve nutrient cycling on a farm. What is Sustainable Agriculture? provides information on best practices the encourage the stewardship of land, water and air resources.
Showing 1-20 of 40 results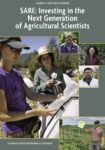 Investing in the Next Generation of Agricultural Scientists
Sustainable solutions to today's agricultural challenges arise when scientists, educators and producers work together to test theories in real-world, on-farm situations. For this approach itself to be sustainable, there must be opportunities for the next generation of agricultural scientists to use collaborative, applied research to address the real-world needs of farmers and ranchers. The SARE Graduate Student grant program is one such opportunity—since 2000, the program has supported the work of 600 master's and Ph.D. students.