Whether it's through urban agriculture, food sovereignty work, local marketing or peer networks, farmers can enrich communities and at the same time be strengthened by the connections they maintain with both the general public and with their fellow farmers. For our farming communities to thrive to their fullest, social justice topics must be addressed in ways that promote equity for farmers of color and other marginalized populations.
Social Sustainability
The fourth episode in SARE's "What is Sustainable Agriculture?" series introduces key components of social sustainability and illustrates strategies that can help farmers and ranchers succeed. "Social Sustainability" addresses the importance of human resilience, success and fulfillment in agriculture.
Sampler of Projects
Bringing Healthy Options to Food Deserts
SARE project FNC19-1169
Legacy Taste of the Garden is a Black-owned family farm in Princeton, Ind., that seeks to improve socioeconomic outcomes in communities that are considered food deserts. As a multi-generational farm, Legacy uses traditional farming practices and a network of like-minded farmers and partner organizations to teach community members about the value of healthy foods and how to grow them sustainably. Partnering with two other farms, Legacy Taste of the Garden Operations Director John Jamerson used a SARE Farmer/Rancher grant on a multi-faceted project aimed at increasing the availability of whole foods in food deserts in Princeton, Evansville and Indianapolis. At multiple locations, the group taught youth and adults about urban farming techniques and business opportunities, such as the community supported agriculture (CSA) marketing model, and connected communities to local food options. They also partnered with chefs to educate communities about healthy dietary choices and food preparation, and created a "28-day challenge," a guided, plant-based diet lasting a month.
Dismantling Barriers for Young Farmers of Color
SARE project ONE19-328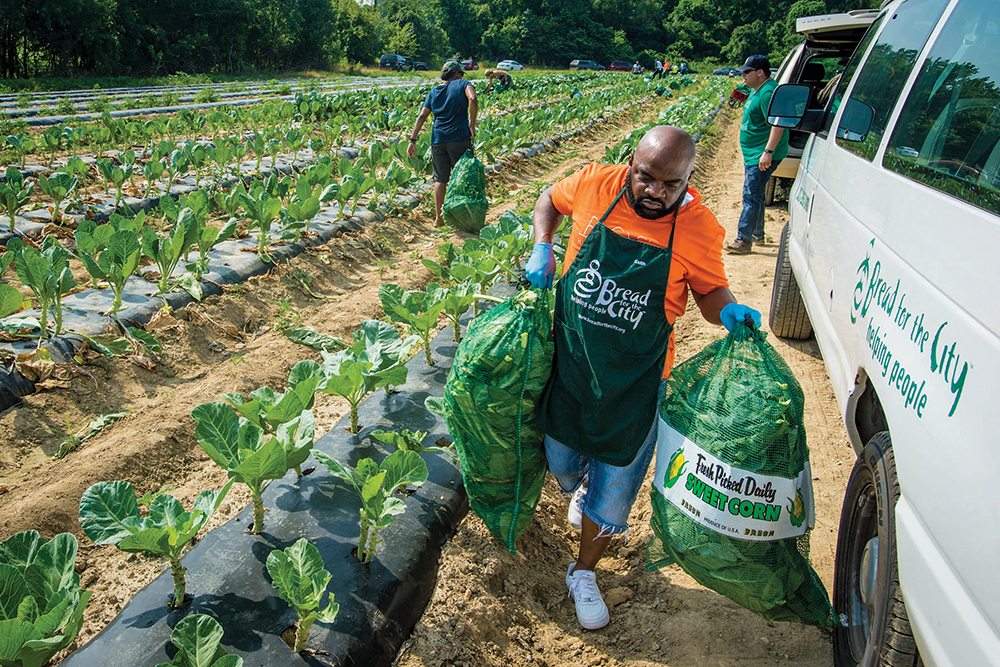 Young farmers face many challenges in gaining access to the land, capital, networks and other resources needed to grow a successful business, but they don't face these challenges equally. The number of Black, Latinx, Asian American and Native American primary producers all decreased between 2012 and 2017, according to the 2017 Census of Agriculture, which shows that centuries of marginalization and systemic racism are causing young people of color to struggle with a career in agriculture. As a result of this, the National Young Farmers Coalition (NYFC) partnered with Soul Fire Farm in Petersburg, N.Y., to equip young farmers around the country with tools they can use to confront and dismantle racism and inequity in food and farming systems. Supported by a SARE Partnership grant, NYFC offered anti-racism training to 25 of its chapter groups that were facilitated by Soul Fire Farm. Participants completed NYFC's Racial Equity Toolkit and were connected with Black- and Brown-led organizations engaged in anti-racism work in their regions.
Bringing Farmer-Led Training Networks to the Deep South
SARE project LS20-331
One of the most powerful ways that farmers can improve the sustainability of their operation is by seeking community with their peers. By networking and building relationships with one another, farmers can share ideas, experiences and resources, and offer support when times are difficult. Recognizing this, the Alabama Sustainable Agriculture Network (ASAN) decided to bring a model for farmer-led training and peer networking used in other parts of the country, known as a Collaborative Regional Alliance for Farmer Training (CRAFT) Network, to central Alabama. Using a SARE Research and Education grant, the team at ASAN worked with farmers to establish a CRAFT Network, the first of its kind in the Deep South. Along with developing its structure and governance, the group conducted interviews and focus groups with 50 farmers to assess their learning needs and backgrounds. They also began holding monthly on-farm workshops on topics determined by a steering committee. The group places an emphasis on creating an inclusive environment for BIPOC farmers, women farmers and LGBTQ+ farmers.
Mushrooms as a Sovereign Food for Northern California Tribes
SARE project RGR20-010
Native American tribes across the country view food sovereignty as an act of cultural resurgence that ties directly to the health, economic development and shared identity of tribal communities. In this spirit, members of the Potter Valley Tribe, who are descended from the Pomo people of northern California, are seeking to bring native mushrooms back into regular use by their tribal members. Supported by a SARE Research to Grassroots grant, members of the tribe built a community mushroom lab space and evaluated how well they could grow a variety of native mushroom species using readily available substrates from local businesses, including brewer's grain, walnut waste and spent coffee grounds. The mushrooms they selected had both culinary and medicinal purposes. Collaborating with eight neighboring tribes, they held educational workshops and began mapping the distribution and diversity of fungi in nearby natural areas, and took people, primarily tribal youth, to gather mushrooms using traditional methods.
Social Sustainability Resources
Information for farmers, ranchers, educators and researchers who are seeking to improve social sustainability and quality of life for producers, their families and our communities.
Stories from the Field
Here are some of the ways SARE grantees are improving social sustainability in agriculture.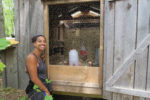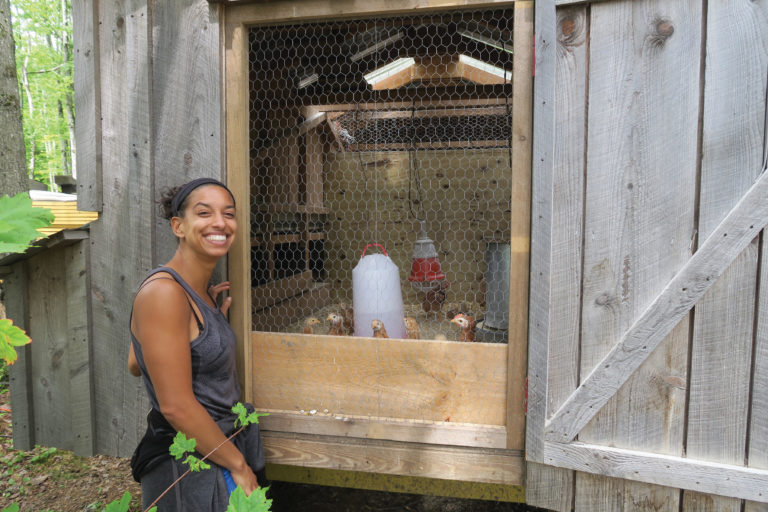 Balancing Farm Viability with Serving Local Low-Income Families
Leah Penniman and her team at Soul Fire Farm in New York are working to remove the financial barriers to bringing fresh, nutritious foods to low-income communities.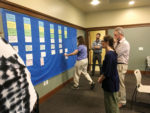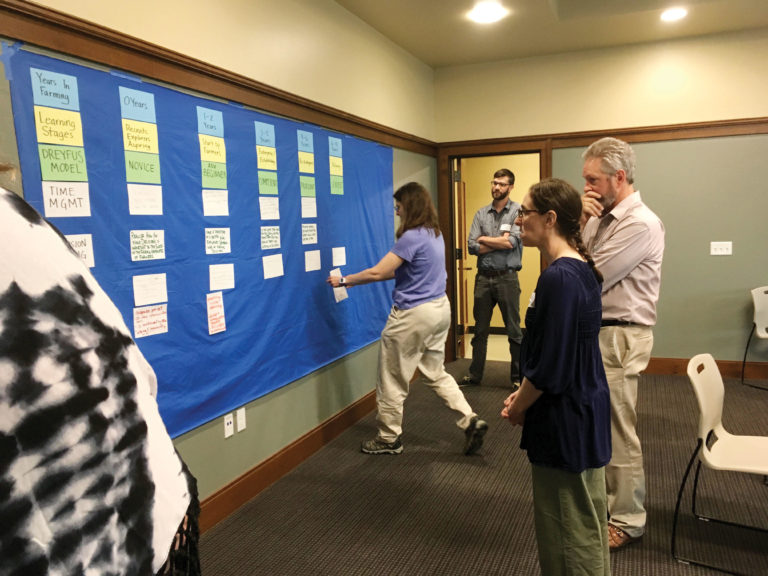 Strengthening Interpersonal Relationships On and Off the Farm
" "[This project] has been an important reminder that effective communication and planning are as key to a successful farm as good books and sound production practices." A training participant " THE CHALLENGE Farmers have long relied on agricultural service providers (ASPs) for their technical expertise on a range of issues related to production, marketing…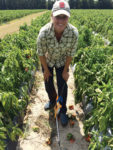 North Carolina Graduate Student Tackles On-Farm Food Waste
" "Not only does the loss of specialty crops reduce farm efficiency and sustainability, but the recovery of those crops can increase farm profitability and availability of fresh fruits and vegetables." Lisa Johnson, North Carolina State University " THE CHALLENGE Fruit and vegetable farmers are all too familiar with food waste, as they are forced…
Resources and Learning
Search for SARE resources on topics related to social sustainability. Examples include: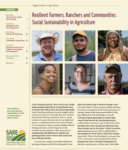 Resilient Farmers, Ranchers and Communities: Social Sustainability in Agriculture
When Nfamara Badjie, Dawn Hoyte and other family members started Ever-Growing Family Farm in Upstate New York in 2014, they had an improbable vision: that they could grow rice well enough to allow at least one of them to eventually leave their off-farm job and work full time on the farm. Rice is a nearly […]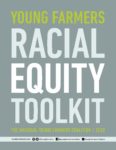 Racial Equity Toolkit
This toolkit was developed by the Caitlin Arnold and the National Young Farmers Coalition as part of a Northeast SARE Partnership Project to train farmers interested in confronting and dismantling racism and inequity in Northeast farm and food systems. The project and this toolkit were initiated in response to requests from majority white Coalition chapters […]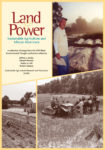 Land and Power
Renowned experts' articles, essays and poems offering historical and contemporary Black perspectives on sustainable agriculture.