Horticultural Crops
Rotary Tilling Cultivators (multiple heads)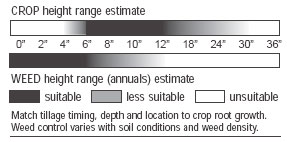 Overview: The spaces between their independent gangs and their vertical clearance of 18" to 24" allow weeding in many crops long into the season. Metal housing around the tilling blades protects plants and contains moving soil. These tools are designed and constructed for shallow tillage - high-speed slicing of weeds just below the soil surface - not primary tillage. They can handle less crop residue than the solid-shaft tillers and are lower priced. Depending on soil and residue conditions, the better multiple-head units work for strip-till planting if suitable seedboxes are cushioned from vibration to allow consistent seed placement.
When working young plants in crusted soils, tiller cultivators tend to decrease clodding compared with sweep cultivators. Because sweeps need to be driven slowly to avoid pushing clods onto the plants, the tillers can travel faster in these conditions, do a superior job of weed control and cause less crop damage. Overall, tillers can work effectively in moister soils than can sweeps.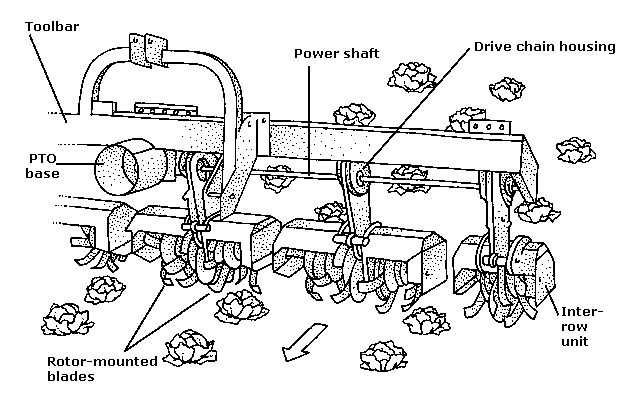 Design Features: The individually suspended inter-row gangs are mounted with parallel linkage; heads vary in width from 5" to 60" by knife width and arrangement. Gangs attach to a main toolbar. Chain drive powers the heads from an elevated hex-shaped PTO drive shaft that runs parallel to - and just below - the main toolbar. Heavy-duty models have cast-iron gearboxes. Some makers provide two lengths of chain housing for better adaptation for use on raised beds. Additional furrower attachments are necessary to move soil into rows for any in-row weed control.
Model for comparison: 66" to 72" wide; working three 18" rows on 60" bed
Rec. PTO HP: 25 to 35
Speed: 2.5 to 5
List price: $4,950 to $5,500
Width range (all makers/all models): 1' to 18'
Sources: 16, 26, 53, 80
Farmers: Berning, Haines, Harlow, Kenagy
TIPS: For small market garden farmers, a walk-behind tiller can serve as an effective shallow cultivator if properly set. High vertical sides limit how close these units can cultivate to the row of a crop with a broad canopy. Sources: Ardisam, BCS, Garden Way, Goldoni, Snapper