Horticultural Crops
Brush Weeder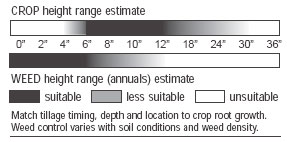 Overview: Vertical brush weeders use rotating nylon bristles to pull weeds and aerate soil about 1" deep. Rapidly spinning bristles turn in the direction of travel and run between the rows. The bristles penetrate the soil crust as they pull and shred weeds. The flexible bristles don't create compaction, but leave worked soil as a fluffy mulch that helps to regulate soil moisture. Usable in any soil moisture level where a tractor can be reasonably driven; less effective in hard, dry soil conditions.
Design Features: Metal crop shields (2" to almost 5" wide) protect crops from moving soil. Brushes 20" or 30" in diameter and at least 4.75" wide are custom built to till a specific width of inter-row area. The smaller version can be belly mounted or rear-mounted, while the larger diameter hoe must be rear-mounted. Brushes resemble a section of a street sweeper brush and are PTO-powered. Parallel linkage on each brush maintains consistent depth on uneven terrain. Rear mounting requires a second person (who sits behind the brushes) for precision steering.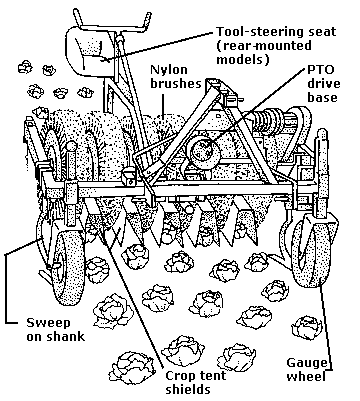 Note: Horizontally rotating brush hoes use pairs of much smaller brushes on either side of a row. They use hydraulic, battery-electric or PTO power. The brushes resemble a household vacuum cleaner's circular brush attachment. They can be tractor-mounted or horse-drawn to cultivate up to five rows, or set on manually pushed tool carts for single-row application. Tubular steel carts use off-road bicycle wheels. Useful in moist soil. (Horizontal hoe sources, both Scandanavian: 30, 94)
Model for comparison: 72" toolbar, 6 vertical brushes (20" diameter) for 5 rows
Rec. PTO HP: 30
Speed: 1 to 3 mph
List price: $8,000
Only 72" toolbar; brush/shield configuration made to order.
Sources: 6
Farmers: Brush weeders are currently used more widely in Europe due to stringent herbicide restrictions there. Relatively few are used in North America outside of forestry nurseries. Robin Bellinder at Cornell University (see 'Contacts') recorded several years' experience with a vertical brush hoe and other leading European tools in vegetable systems.