The Social Aspect of Sustainable Land Management: Tohono O'odham's story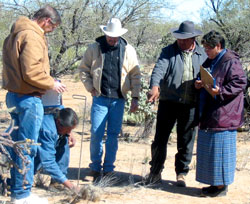 Successful range management incorporates flexibility, mobility and reciprocity, particularly when the range is jointly owned. Then, management also becomes about maintaining relationships.
A participatory planning and education project funded by SARE on the Tohono O'odham Nation in Arizona highlights the power of personal relationships to influence land management on communally managed rangelands.
The Tohono O'odham Nation encompasses 2.8 million acres of Sonoran desert habitat, ranging from grasslands in higher rainfall areas of the eastern region to desert scrub that dominates the drier northern and western regions. For the last 300 years, livestock have provided a source of cash, subsistence, food for community feasts and ceremonies, social status and political clout.
On some parts of the nation, uncontrolled livestock grazing has degraded rangelands, accelerating erosion, facilitating mesquite invasions and replacing desirable plant communities with less palatable and less productive plants.
With cattle running in common, it is difficult to control grazing, provide rest periods and manage herd genetics. Thus, when the livestock are sold off the reservation, producers typically receive a price lower than the market price because of less desirable livestock genetics.
To improve range conditions, the nation was fenced into nine grazing districts during the 1930s, but local producers were not consulted. Traditional territories were split, causing economic hardship, provoking lasting resentment toward the government and creating animosity among some neighbors.
A SARE-funded project confronted the nation's range management problems by addressing the unique social and environmental aspects of its rangeland management. Using a participatory
approach to planning and education, University of Arizona researchers facilitated dialog among tribal members and other range professionals to adapt range management principles developed in more productive grasslands to the environmental and cultural context of the Tohono O'odham Nation.
The resulting plan, based on findings that typical stocking rates have less influence on perennial plants than the variability of rainfall, emphasizes community cooperation rather than dividing the open range into individual allotments. Participants plan to build consensus for herd management and controlled access to watering points.
The series of workshops, which combined scientific and local knowledge, created so much public support that an Agriculture and Natural Resources Program was initiated at the Tohono O'odham Community College. The workshop curriculum was expanded, forming the basis for an associate degree program.
The college developed its degree program using a participatory process modeled after the SARE project, says Jennifer Arnold Musa, who coordinated the SARE project. "Many of the community participants and elders who collaborated in the SARE project are still active members in program planning," she says. "Some SARE project participants have gone on to take classes or even a formal role in the development of the AG&NR program."
Two new faculty members have been hired to teach the classes and an extension agent is developing outreach activities for youth. Junior rodeos have been a big success in getting kids interested, and the college hopes that these activities will raise the program's profile and gradually attract students to their program.