Producer Profile: Steep Learning Curve Pays Off
Fourth-generation Nevada rancher Agee Smith thought he knew the 35,000 acres that comprise his family's ranch like the lines on his palm – until he attended a Holistic Management (HM)TM workshop in Elko.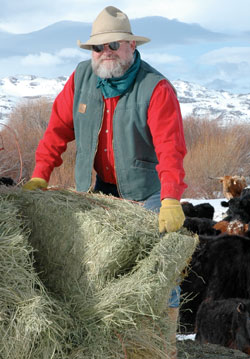 "That was a changing point in my life," says the co-owner of Cottonwood Ranch.
Smith's realization in 1995 became the foundation for his management decisions ever since. It complicates decisions, making range management "daunting, challenging and exciting," Smith says, because one decision will affect every aspect of the family operation.
Smith and his wife, Vicki, attended the HM course after his father went to one and then encouraged them to go. At the time, the Smiths were battling with the Bureau of Land Management and the Forest Service over mandatory cuts in their cattle grazing permits. Both agencies supervise grazing permits for the ranch, and one permit covers designated wilderness in the Jarbidge Mountains.
"They had cut our numbers to below 300 cows and this operation was no longer viable," Smith says. "I was tired of the fight. Life is too short."
As a part of his new management philosophy, Smith tried something almost unheard of in the contentious environment of Nevada's public land management: He invited everyone who was interested in the natural resources on the family ranch – environmental groups, agency personnel, and university and extension people – to create a collaborative management team.
"This is a decision-making body, not just an advisory team," Smith says of the people who direct major decisions on his 1,200 acres of private land as well as 34,000 acres of public land. "Now we have problem-solving meetings, not barrier- type meetings. We all at least respect one another and a lot of us are good friends."
Smith counts this unusual team of managers as one of his biggest successes. "A lot of people want to do this, but can't get it off the ground," he says. "And sometimes an agency will say it takes too much time. It does take time, but so do court rooms."
The group's decisions have been right, at least some of the time. The Smiths have tripled the number of cattle they run. Still, net income was a problem. So, in 2000, the Smiths started a 100-horse guest ranch. Agee's sister, Kim, supervises the recreation enterprise, which attracts mainly young people with children and retirees. They also host business retreats and natural resource workshops.
After the first six years of operation, the recreation enterprise on the ranch provides about half of the income – and with better marketing it could be significantly more, Smith says.
"There's a lot of potential growth in the recreation business," he says from the ranch headquarters that sit 70 miles from the nearest post office and 30 miles from a paved road.
Kim and Agee would like to run more natural resource classes at the ranch. Agee is especially proud of how the riparian areas have improved on the miles of creeks that traverse the ranch – although he is quick to point out that some spots still need work.
"As a kid, I remember the creeks with a lot of bare ground and maybe one or two willows," he says. "Now, the willows, sedges and rushes are there along most of the creeks."
The rehabilitation, he says, is all because of rest. Not total rest, he adds, but at least not grazed continuously. "Always have your riparians go to bed with hair on. In other words, leave the stubble high enough to catch sediment in the spring."
As the fourth generation on a five-generation ranch, Agee understands the critical importance of intergenerational communication. His parents, Horace and Irene, still participate in the ranch management, and Agee hopes his two kids – who, with a niece, now tend cattle and help with special events – will find a permanent place at Cottonwood Ranch.
"When you criticize past range conditions, you have to be sensitive to the generation who was in charge then," he says. "They were doing the best they could with the knowledge they had. It's easy for them to take your words as 'you were doing it wrong.' That's not it at all. Now we just have so much more knowledge."
"And someday we may be in the same boat," says Vicki.
For more information about the Smith family's Cottonwood Ranch, visit www.cottonwoodguestranch.com/ or call the ranch headquarters at (775) 752-3135.
To-Do List
Just like making a New Year's resolution, you can improve your family life, your business and your rangelands by taking these steps:
Set clear, succinct goals. Ask yourself: What do I want from life in general and this operation specifically?
Prioritize your goals and determine the cost of each one.
Evaluate your resources (see list below).
Determine the aspects of your life that you can control – the weather vs. livestock numbers, the global economy vs. a business budget, government policy vs. your education. Realize there are aspects you can not control.
Develop a plan for tomorrow, and for one year, five years and 10 years.
Schedule a time to review your goals and your progress toward them.
Evaluate your goals and plans. Is this where you want to go? Will your plan get you there?
Set a specific time to evaluate again at least once or twice a year.