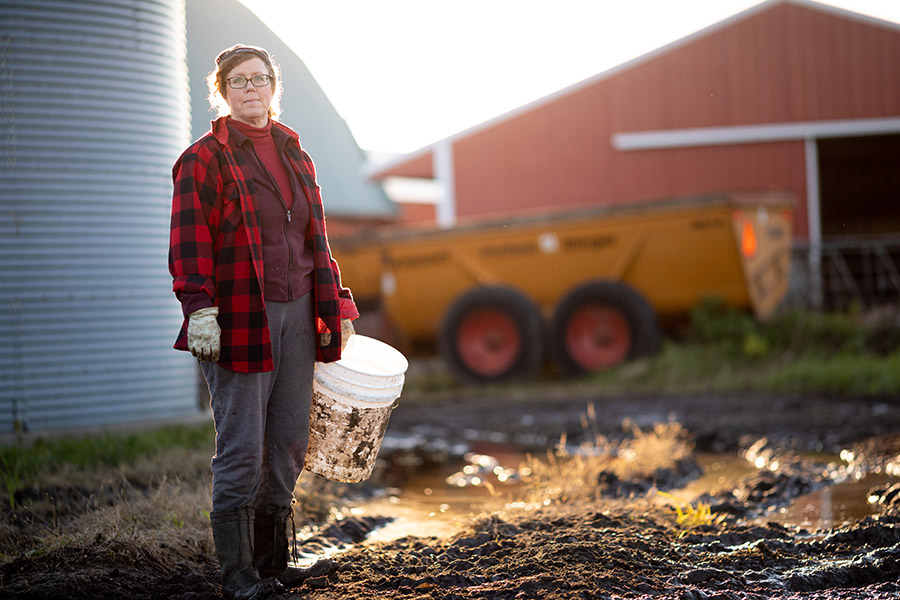 A course in skills-based suicide alertness prepared Ruth Linkenmeyer-Meirick for a desperate call from a friend. "She was going through a divorce, and she was so overcome by grief and sadness it was hard to talk with her," says Meirick. "Had I not taken the course, I wouldn't have known what to do." Meirick was able to ask her friend a difficult but important question: "You're not thinking about death by suicide, are you?" Her friend replied that she was not, and from there, Meirick listened and offered crisis-intervention suggestions.
Meirick understood how to help her friend because she had recently attended the skills-based suicide-prevention training called safeTALK. The training sessions were adapted to address the unique characteristics of agricultural communities. Through her work as the foundation director of the Minnesota Farm Bureau, Meirick has helped to make similar workshops available to Farm Bureau agents and others throughout the state.
The adapted trainings, called safeTALK: Preventing Suicide in Agricultural Communities, resulted from a multi-pronged Minnesota project titled Trying Times: Tools to Understand and Alleviate Farm Stress. The USDA Sustainable Agriculture Research and Education (SARE) program funded the two-year project. The Minnesota Department of Agriculture (MDA) managed the grant, which involved multiple partners in the public sector and nonprofit community.
The project developed materials and delivered workshop and online training about several farm stress and mental health topics to federal agency staff, state regulatory staff, Extension staff, lenders, clergy, social organizations, business people and others.
We wanted the workshops to teach people to recognize farmers under stress. We hope they'll learn to stop, pause, develop good listening skills, and have meaningful conversations. We hope they'll learn ways to guide farmers to sources of help. That might be a doctor, a lender. Farm stress is not always caused by a mental health crisis. It's often caused by those practical problems that are hard to solve. Mental health often feeds off these problems.

MDA Senior Advisor Meg Moynihan, who coordinated the North Central (NCR) SARE project.
When problems become overwhelming, suicide becomes a way to escape the pain of the multi-source stress that Moynihan says is "omnipresent" for farmers. The stress often comes from challenging relationships, weather, overwhelming responsibilities, isolation and ongoing "crushing" debt.
The fact that farmers often avoid talking about their stressors and emotional pain, sometimes leading to suicide, is a focal point of the skills-based, ag-adapted suicide-alertness training made available by the SARE project.
"Because of their unique challenges, farmers, ranchers and farm workers have a suicide rate that is two and a half to three times higher than that of the non-farming population," says safeTALK presenter Glen Bloomstrom, a workshop trainer for LivingWorks who developed the agricultural adaptation for safeTALK and facilitated eight SARE-funded trainings reaching 233 attendees. Ultimately, Bloomstrom also trained 10 new trainers to facilitate the program.
"The high suicide rate among farmers has to do with rural culture and the rural stigma about mental health and suicide," he says. "The stigma comes from the rural culture, where people tend to not talk about personal problems and feelings. They hold these inside themselves. They're concerned they'll be looked at differently by others. That stigma keeps people from seeking help. The emotional pain can become unbearable. We need to break the stigma—get people to talk about their problems and pain and actually use the word suicide in conversation. It doesn't mean that you're weak."
Giving voice to the emotional pain and granting the emotional freedom to use the word suicide is what Ruth Linkenmeyer-Meirick did for her desperate friend. "In my suicide-alertness training I learned to be direct in asking questions," she says. "And I learned that I need to be ready to offer help and suggestions for sources of help."
Participants in the Minnesota workshops focusing on alleviating stressors for farm youth learned similar responses. "Anyone working with farm youth needs to try to understand the unique sources of their stressors," says workshop coordinator Monica McConkey, an agricultural mental health specialist who operates Eyes on the Horizon Consulting.
"A lot of farm youth are isolated," she notes. "I talk to kids who get up at 4 a.m. to milk cows before they go to school. A lot of kids internalize the stress that their parents are experiencing. Many lack a trusted person they can talk to." Adults learning to listen with empathy can fill that role.
Evaluations from earlier MDA workshops laid the groundwork for the SARE project. "We knew from previous workshop evaluations that agricultural advisors particularly wanted more information and skill building in suicide prevention as well as in suicide's aftermath," says Moynihan.
"Advisors also wanted more information on conflict resolution, de-escalation and farm youth issues," she says. "We wanted to reach those people who are on the front lines and often have to deliver bad news to farmers. Lenders, for example, sometimes have to pull loans and end up driving a farm into bankruptcy. That's not only hard for the farmer but hard for the lender as well. We wanted to teach professionals how to work with farmers, and we wanted to help professionals deal personally with their own difficult work. We wanted our SARE project to focus on the sustainability of the human spirit."
"Our project team and partners created a comprehensive effort that enhanced the stress- and distress-related awareness, skills and abilities of nearly 1,500 professionals in and beyond Minnesota who work with farmers," she adds. "We vastly underestimated the number and variety of people who would be attracted to the learning opportunities we created. I believe NCR SARE's investment in our project continues to have an enormous impact throughout and even beyond Minnesota."
McConkey, who sat on the advisory board that developed the SARE-funded project, adds: "Receiving those funds was such a great opportunity to take the ideas we had and see them through to fruition. The SARE grant gave us the freedom to see our needs, develop plans to address them and see those plans succeed."
Ongoing Help
The SARE funding permitted project organizers to refine a previously developed workshop called Down on the Farm: Supporting Farmers in Stressful Times. They collaborated with AgCentric, which is part of the Minnesota State college system, to create a curriculum enabling people in and beyond Minnesota to adapt and deliver it themselves.
The refined curriculum is available for download at mnfarmstress.com at no cost, and the MDA encourages users to adapt for their own state, region and audience.
Want more information? See the related SARE grant:
This material is based upon work that is supported by the National Institute of Food and Agriculture, U.S. Department of Agriculture through the Sustainable Agriculture Research and Education (SARE) program. Any opinions, findings, conclusions, or recommendations expressed in this publication are those of the author(s) and do not necessarily reflect the view of the U.S. Department of Agriculture or SARE.