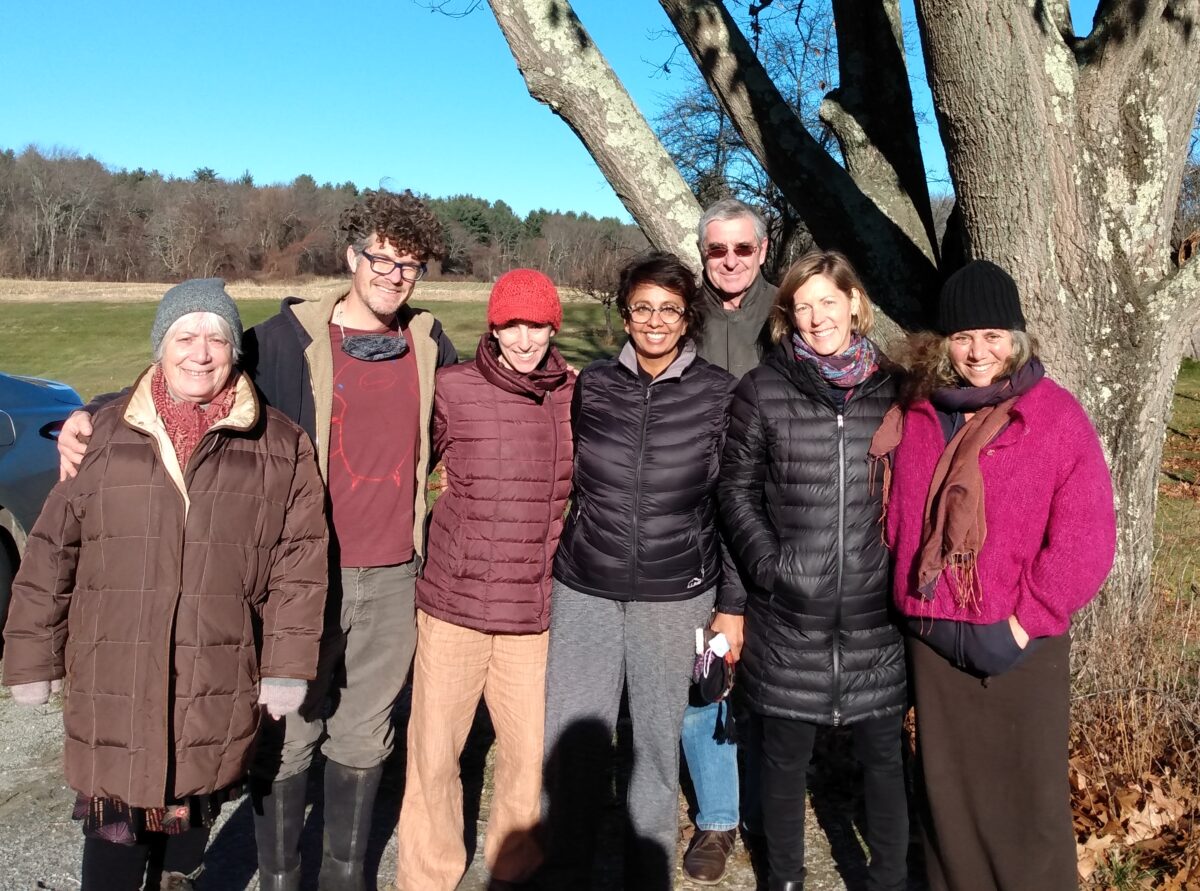 When Marc Cavatorta heard about a reflective, supportive retreat for farmers being offered not far from his organic vegetable farm near Palermo, Maine, he jumped at the chance to attend. It was late 2021, and he was just finishing his first year of farming on his own. The year had been particularly stressful. "I was looking for some support," he says. "The retreat offered a chance to be with other farmers who were willing to talk about their feelings and share their experiences."
The retreat was organized by the Be Well Farming Project, a program resulting from a research project funded by Northeast SARE. The purpose of the research project—"Building Social Sustainability on Farms Through Online and In-Person Education"—was to identify ways farmers can enhance personal well-being and cultivate supportive relationships within a community, including the communities comprising the farm family and farm employees.
Farmers provided the impetus for the project. "Maine farmers attending a conference and Northeast farmers responding to a social sustainability survey expressed a desire for peer learning and opportunities to convene at a retreat to discuss issues of social sustainability," says project leader Leslie Forstadt, University of Maine Cooperative Extension. "Most farm sustainability efforts center on economic or environmental concerns where personal values and goals are interwoven; few agricultural sustainability projects focus solely on social sustainability."
Spurred by the feedback from farmers and farm workers to look more closely at the issues surrounding the emotional and social well-being of those who work in agriculture, Forstadt and her colleagues—Jennifer Hashley from Tufts University's New Entry Sustainable Farming Project, Anu Rangarajan and Violet Stone from the Cornell Small Farms Program, and project coordinator Daniel MacPhee from Blackbird Rise Farm in Maine—soon realized they were looking at an area of need that was growing incrementally with increases in farm stress resulting from the challenges inherent in agriculture.
"Social sustainability requires adaptation and resilience in the face of change and stress," says Forstadt. "The well-being, quality of life and social sustainability of U.S. farmers, farm families and farmworkers are great concerns because of farm labor shortfalls, global markets, climate change and changes in technology and consumer preferences."
Supported by funding from a SARE Research and Education grant, the multi-organization team from three Northeastern states began researching the issues at the heart of social sustainability. They tried to pinpoint the strengths or inner resources farmers could build within themselves and in their social interactions to help them better withstand the stressors of farming. Focus groups made up of farmers provided insights that shaped the backdrop for the outreach activities the team eventually developed.
"We asked participants of focus groups how they defined personal—or social—sustainability," says Forstadt. "Farmers' answers varied. Some said it has to do with balance, with family, community connection and communication with customers. We asked people what they felt when they were feeling in balance and out of balance. A need that many expressed was the need to have peers that they can talk to—peers who really understand what they're experiencing."
Guided by farmers' input, the project team developed an educational, experiential format that became the Be Well Farming Project. They hosted one three-day in-person retreat for farmers, one virtual three-day retreat and five webinars. They also created a website, Be Well Farming.
In developing the outreach format they partnered with Rachel and Steffen Schneider from the Institute for Mindful Agriculture and Deb Habib from Seeds of Solidarity Farm and Education Center.
"We found so much hunger among farmers to spend time with one another in a trustworthy space," says Violet Stone, a project collaborator from New York's Cornell Small Farms Program. "What we offered was a reflective, safe place where farmers could find rest and renewal, a place where they could regain a sense of direction and purpose."
As a key tool for improving communication skills and relationships with others, project leaders taught a process called "attentive, open-hearted listening." Stone describes the process like this: "Often our minds can be so active and busy, that when others are talking, we hear words but are more tuned in to the stream of thoughts or judgements in our heads. Or we may be partly hearing but partly thinking ahead to what we might say in response, or otherwise 'leaving' the person."
The enhanced listening skills Cavatorta learned are helping him build a broader sense of community on his own farm by strengthening relationships with seasonal employees and customers. "I'm trying to be a good, active listener so that the people who are talking to me—expressing ideas to me—feel valued and heard. But a farm can be a stressful environment, so sometimes active listening can be hard to practice because of so many things going on. What I learned at the retreat is always a good reminder to keep on trying to listen."
Asking open and honest questions as a way of deepening relationships is another communication skill project participants practiced. "Instead of offering our advice or experience, we ask questions to help take someone deeper into their reflection," says Stone. "It's counter to our western way of moving quickly, trimming conversations off as we move to the next thing. It invites spaciousness and deepens connection to what's really going on inside us as we explore our themes of wellness, connection and farm relationships. Our job is not to solve a person's dilemma or to help them do so. It's simply to ask thoughtful questions to take them deeper into discernment."
The exercises in asking honest questions were particularly meaningful to Cristina Cosentino, who participated in the in-person retreat. At the time, she was the director of a nonprofit produce and livestock farm near Shelter Island, New York. "Just learning that kind of communication is something I think about every day," she says. "When you're working and somebody comes to you with a concerning issue, it's really easy to start shoving solutions down people's throats."
After attending the retreat, Cosentino began teaching what she came to call "curious communication" to farm staff in managerial roles. Her employees found it easier and more effective to practice than they had imagined.
With the SARE-funded Be Well Farming Project impacting more than 100 participants, Cosentino's and Cavatorta's engagement of newfound communication skills illustrates the far-reaching spinoff benefits of the program on farmers, their families, employees and customers.
"The retreat was a life-changing experience," says Cosentino.
Want more information? See the related SARE grants:
This material is based upon work that is supported by the National Institute of Food and Agriculture, U.S. Department of Agriculture through the Sustainable Agriculture Research and Education (SARE) program. Any opinions, findings, conclusions, or recommendations expressed in this publication are those of the author(s) and do not necessarily reflect the view of the U.S. Department of Agriculture or SARE.