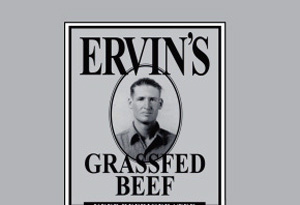 ERVIN'S GRASSFED BEEF
Will and I started Ervin's Grassfed Beef (EGB) in 1997. The company was named after my husband Will's maternal grandfather, Ervin Hicks (right), who had a wonderful land ethic and a gentle way with animals. Originally, we tried to form a cooperative, including our neighbors and a few other ranchers who do a great job with their land and their cattle. Unfortunately, even though everyone agreed that it was a great idea, no one but us was willing to spend any money or time developing it. So now, our program is set up like a cooperative, at least in spirit. On paper, EGB is simply a marketing agent that buys cattle from other ranchers who are willing to adhere to the same set of standards that we do. This way, EGB is a pretty lean organization, giving most of the value to the producer and the consumer.
Each rancher with whom we work is certified by EGB to meet the standards we advertise to the consumer. They are responsible for the product and retain ownership until the steer is on the rail. Some producers don't want the responsibility of finishing a steer, so our ranch buys them from the producer (similar to a stocker operation) and sells them to EGB.
EGB offers three prices: hamburger (cull cow), stew beef (tough steer) and steak (tender steer). We only buy what our demand calls for. Originally, we started offering only a frozen product but have since been able to offer fresh as well.
STRENGTH: Starting with frozen product is very forgiving and maximizes per carcass net
WEAKNESS: Frozen product limits marketability