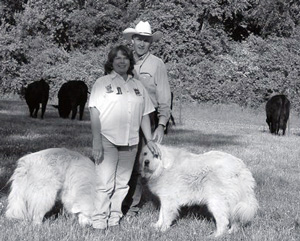 Bill and Di Hodge had raised a small cattle herd in addition to their "day jobs" for decades, but got serious about making the sideline activity a real income-generating enterprise after they saw the potential of marketing grass-fed beef.
"Six to eight years ago, we suddenly came to the realization that a cow was put on this Earth to graze," said Bill Hodge, an extension educator who farms in northwest Georgia. "We wanted to see if we could produce a consumer-acceptable product from pasture."
After four years of forage research, the Hodges had perfected a system of growing cold-season and warm-season grasses that not only performed well in their climate but also produced a good flavor in their beef. They introduced customers to their new product at a nearby farmers market in Carrollton started in 2002 partly with support from a Sustainable Agriculture Research and Education (SARE) program grant.
The Cotton Mill Farmers Market filled a gap in northwest Georgia. As a suburban population drifted west from Atlanta during the 1990s, Carroll County grew. Many of the new residents knew nothing about the local farm products. SARE's grant supported a new market initiated by civic groups, government agencies and farmers committed to bridging that gap.
As Carroll County extension director, Hodge participated in the local effort to launch the market. In 2003, its second year, the market featured 32 producers, the Hodges among them. The market was an ideal venue to test their packaging scheme devised to use the whole animal: 20-, 30- and 40-pound packs of ground beef, steaks and roasts.
That season the farmers market became a primary sales outlet for the Hodges, especially with the opportunity to feature their beef in occasional chef demonstrations prepared on site.
"The farmers market gave us a venue to be in the market and expose the product," Bill said. "It really made a difference [to customers] to have a chef prepare our beef, with the aroma flowing through the market."
Today, the Hodges sell their meat under their "Hodge Common Sense Beef" label directly from their farm or on online at websites like LocalHarvest.org and EatWild.com, where Hodge says they have gained many customers. They still go to the Cotton Mill market sometimes, but say demand now exceeds supply from their herd of 40.
The Hodges have begun marketing meat for several producers under their label. "Others don't want to spend the time dealing with the public," Bill said. "There's a lot of time and energy involved in direct marketing."
Despite that, the Hodges still sell at the market periodically. They expect to diversify and offer lamb from a new flock of sheep and are considering goats as a biological weed control on their land.