So long! It's been good to know you.This dusty old dust is a gettin' my home.And I've got to be drifting along.
—WOODY GUTHRIE, 1940
The dust storms that hit the Great Plains of the U.S. during the 1930s were responsible for one of the great migrations in our history. As Woody Guthrie pointed out in his songs, soil erosion was so bad that people saw little alternative to abandoning their farms. They moved to other parts of the country in search of work. Although changed climatic conditions and agricultural practices improved the situation for a time, there was another period of accelerated wind and water erosion during the 1970s and 1980s. Also, in many other countries land degradation has forced families off the farm to urban areas or caused them to seek out new lands by developing natural areas like rainforests.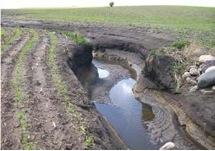 Erosion by wind and water has occurred since the beginning of time. Although we should expect some soil loss to occur on almost all soils, agriculture can greatly aggravate the problem. Erosion is the major hazard or limitation to the use of about half of all cropland in the United States. On much of that land, erosion is occurring fast enough to reduce future productivity. As we discussed earlier, erosion is also an organic-matter issue because it removes the richest soil layer, the topsoil. The soil removed from fields also has huge negative effects off the farm, as sediment accumulates in streams, rivers, reservoirs, and estuaries, or blowing dust reaches towns and cities. In fact, sediment remains the number one contaminant for most waters around the world, and it often also carries other contaminants like nutrients, pesticides, and other chemicals.
Climate and soil type are important factors affecting erosion. Intense or prolonged rainstorms are major causes of water erosion and landslides, while drought and strong winds are critical factors in wind erosion. Soil type is important because it influences the susceptibility to erosion as well as the amount that can occur without loss of productivity. In chapter 6 we discussed how some soils (especially silts) with poor aggregation are more susceptible than other soils, especially those with good aggregation. This is reflected in the soil erodibility ratings, which soil conservationists use to plan control practices.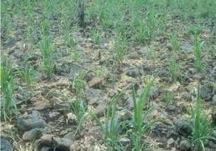 A small amount of erosion is acceptable, as long as new topsoil can be created as rapidly as soil is lost. The maximum amount of soil that can be lost to erosion each year, while maintaining reasonable productivity, is called the soil loss tolerance, or T value. For a deep soil with a rooting depth of greater than 5 feet, the T value is 5 tons per acre each year. Although this sounds like a large amount of soil loss, keep in mind that the weight of an acre of soil to 6 inches of depth is about 2 million pounds, or 1,000 tons. So 5 tons is equivalent to about .03 inch (less than 1 mm). If soil loss continued at that rate, at the end of 33 years about 1 inch would be lost. On deep soils with good management of organic matter, the rate of topsoil creation can balance this loss. The soil loss tolerance amount is reduced for soils with less rooting depth. When it is less than 10 inches, the tolerable rate of soil loss is the same as losing 0.006 inch per year and is equivalent to 1 inch of loss in 167 years. Of course, on agricultural fields the soil loss is not evenly distributed over the field, and areas of water confluence experience greater losses (figure 14.1). Also, many conservationists would argue that any amount of erosion is unacceptable, as the off-site damage to water and air quality may still be considerable.
When soil loss is greater than the tolerance value, productivity suffers in the long run. Yearly losses of 10 or 15 tons or more per acre occur in many fields. In extreme cases, as with croplands on steep slopes in tropical climates, losses of five or ten times that much may occur. For example, originally fertile soils on steep slopes in southern Honduras are now severely eroded (figure 14.2) after years of slash-and-burn agriculture.
EROSION: A SHORT-TERM MEMORY PROBLEM?
It's difficult to fully appreciate erosion's damage potential, because the most severe erosion occurs during rare weather events and climate anomalies. Wind erosion during the Dust Bowl days of the 1930s, which resulted from a decade of extremely dry years, was especially damaging. And about one-third of the water erosion damage that occurs in a particular field during a thirty-year period commonly results from a single extreme rainfall event. Like stock market crashes and earthquakes, catastrophic erosion events are rare, but the impacts are great. We must do our best to understand the risks, prevent complacency, and adequately protect our soils from extreme weather events.
Management practices are available to help reduce runoff and soil losses. For example, an Ohio experiment in which runoff from conventionally tilled and no-till continuous-corn fields was monitored showed that over a four-year period, runoff averaged about 7 inches of water each year for conventional tillage and less than 0.1 inch for the no-till planting system. Researchers in the state of Washington found that erosion on winter wheat fields was about 4 tons each year when a sod crop was included in the rotation, compared to about 15 tons when sod was not included.