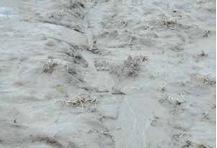 Crusting and surface sealing may be seen at the soil surface after heavy rains in the early growing season, especially with clean-tilled soil, and in the fall and spring after a summer crop (figure 15.1). Keep in mind that crusting and surface sealing may not happen every year, especially if heavy rains do not occur before the plant canopy forms to protect the soil from direct raindrop impact. Certain soil types, such as sandy loams and silt loams, are particularly susceptible to crusting. Their aggregates usually aren't very stable, and, once broken down, the small particles fill in the pore space between the larger particles, making very dense crusts.
The impact of surface crusting is most damaging when heavy rains occur between planting and seedling emergence. The hard surface crust may delay seedling emergence and growth until the crust mellows with the next rains. If such follow-up showers do not occur, the crop may be set back considerably. Crusting and sealing of the soil surface also reduce water infiltration capacity. This reduction in infiltration increases runoff and erosion and lessens the amount of available water for crops.
Reducing Surface Crusting
Crusting is a symptom of the breakdown of soil structure that develops especially with intensively and clean-tilled soils. As a short-term solution, farmers sometimes use tools such as rotary hoes to break up the crust. The best long-term approach is to reduce tillage intensity, use tillage and cover cropping systems that leave residue or mulch on the surface, and improve aggregate stability with organic matter additions. Even residue covers as low as 30% will greatly reduce crusting and provide important pathways for water entry. A good heavy-duty conservation planter—with rugged coulter blades for in-row soil loosening, tine wheels to remove surface residue from the row, and accurate seed placement—can be a highly effective implement because it can successfully establish crops without intensive tillage (see chapter 16). Reducing tillage and maintaining significant amounts of surface residues not only prevent crusting, but also rebuild the soil by increasing organic matter and aggregation. Soils with very low aggregate stability— especially those high in sodium—may sometimes benefit from surface applications of gypsum (calcium sulfate). The added calcium and the effect of the greater salt concentration in the soil water as the gypsum dissolves promotes aggregation.