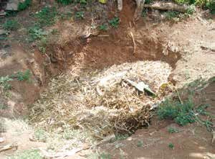 High-temperature piles account for most composting in the U.S., but other methods are also used. Instead of making piles, small farmers in developing countries often dig pits for composting (figure 13.4), especially in dry and hot climates. The pits can be covered with soil material to prevent animals from getting into them, and they retain moisture in the compost material better.
Vermicomposting involves the use of earthworms—typically red worms—to perform the decomposition process. The method is, in a way, still mostly bacteria based, but the process occurs in the gut of the worm. The end product is worm casts, coated with mucus consisting of polysaccharides that make them into somewhat stable aggregates. The system requires bedding material—like newspaper strips, cardboard, hay, and similar materials—that mimics the decaying dried leaves that worms find in their natural habitat. The process is fast and efficient—worms can process half their weight in organic material in one day. The final product has an attractive feel and smell and is appealing to consumers.
Vermicomposting is often used to process kitchen scraps and can be done indoors in small bins. Recently, vermicomposting methods have been developed for large commercial operations. Two main approaches are used, using windrows or raised beds. With windrows, new materials are added on one side of the bed, and the other side is harvested for compost after about sixty days. With the raised-bed or container system— preferred for indoor operations in colder climates—the worms are fed at the top of the beds and the castings are removed at the bottom. Some vermicomposting operations are connected with livestock farms to process manure for export of excess nutrients off the farm as a value-added product.