Temperature
In the United States, it is easy to see how temperature affects soil organic matter levels. Traveling from north to south, higher average temperatures lead to less soil organic matter. As the climate gets warmer, two things tend to happen (as long as rainfall is sufficient): More vegetation is produced because the growing season is longer, and the rate of decomposition of organic materials in soils increases because soil organisms work more rapidly and are active for longer periods of the year at higher temperatures. Faster decomposition with warmer temperatures becomes the dominant influence determining soil organic matter levels.
Rainfall
Soils in arid climates usually have low amounts of organic matter. In a very dry climate, such as a desert, there is little growth of vegetation. Decomposition is also low because of low amounts of organic inputs and low microorganism activity when the soil is dry. When it finally rains, a very rapid burst of decomposition of soil organic matter occurs. Soil organic matter levels generally increase as average annual precipitation increases. With more rainfall, more water is available to plants, and more plant growth results. As rainfall increases, more residues return to the soil from grasses or trees. At the same time, soils in high rainfall areas may have less organic matter decomposition than well-aerated soils— decomposition is slowed by restricted aeration.
Soil Texture
Fine-textured soils, containing high percentages of clay and silt, tend to have naturally higher amounts of soil organic matter than coarse-textured sands or sandy loams. The organic matter content of sands may be less than 1%; loams may have 2% to 3%, and clays from 4% to more than 5%. The strong chemical bonds that develop between organic matter and clay and fine silt protect organic molecules from attack and decomposition by microorganisms and their enzymes. Also, clay and fine silt combine with organic matter to form very small aggregates that in turn protect the organic matter inside from organisms and their enzymes. In addition, fine-textured soils tend to have smaller pores and less oxygen than coarser soils. This also limits decomposition rates, one of the reasons that organic matter levels in fine-textured soils are higher than in sands and loams.
Soil Drainage and Position in the Landscape
Decomposition of organic matter occurs more slowly in poorly aerated soils. In addition, some major plant compounds such as lignin will not decompose at all in anaerobic environments. For this reason, organic matter tends to accumulate in wet soil environments. When conditions are extremely wet or swampy for a very long period of time, organic (peat or muck) soils, with organic matter contents of over 20%, develop. When these soils are artificially drained for agricultural or other uses, the soil organic matter will decompose rapidly. When this happens, the elevation of the soil surface actually decreases. Homeowners on organic soils in Florida normally sink the corner posts of their houses below the organic level to provide stability. Originally level with the ground, some of those homes now perch on posts atop a soil surface that has decreased so dramatically that the owners can park their cars under their homes.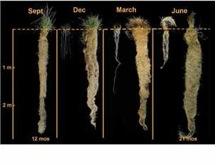 Soils in depressions at the bottom of hills receive runoff, sediments (including organic matter), and seepage from upslope and tend to accumulate more organic matter than drier soils farther upslope. In contrast, soils on a steep slope or knoll will tend to have low amounts of organic matter because the topsoil is continually eroded.
Type of Vegetation
The type of plants that grow on the soil as it forms can be an important source of natural variation in soil organic matter levels. Soils that form under grassland vegetation generally contain more organic matter and a deeper distribution of organic matter than soils that form under forest vegetation. This is probably a result of the deep and extensive root systems of grassland species (figure 3.2). Their roots have high "turnover" rates, for root death and decomposition constantly occur as new roots are formed. Dry natural grasslands also frequently experience slow-burning fires from lightning strikes, which contribute biochar that is very resistant to degradation. The high levels of organic matter in soils that were once in grassland partly explain why these are now some of the most productive agricultural soils in the world. By contrast, in forests, litter accumulates on top of the soil, and surface organic layers commonly contain over 50% organic matter. However, subsurface mineral layers in forest soils typically contain less than 2% organic matter.
Acidic Soil Conditions
In general, soil organic matter decomposition is slower under acidic soil conditions than at a more neutral pH. In addition, acidic conditions, by inhibiting earthworm activity, encourage organic matter to accumulate at the soil surface, rather than distributing throughout the soil layers.
STORAGE OF ORGANIC MATTER IN SOIL
Organic matter is protected in soils by:
Formation of strong chemical organic matter—clay (and fine silt) bonds
Being inside small aggregates (physically protected)
Conversion into stable substances such as humic materials that are resistant to biological decomposition
Restricted drainage, sometimes related to texture, that reduces the activity of the organisms that need oxygen to function
Char produced by incomplete burning
Large aggregates are made up of many smaller ones that are held together by sticky substances and fungal hyphae. Organic matter in large aggregates—but outside of the small aggregates that make up the larger ones—and freely occurring particulate organic matter (the "dead") are available for soil organisms to use. However, poor aeration resulting from restricted drainage because of a dense subsurface layer, compaction, or being in the bottom of a slope may cause a low rate of use of the organic matter. So the organic matter needs to be in a favorable chemical form and physical location for organisms to use it; plus, the environmental conditions in the soil—adequate moisture and aeration—need to be sufficient for most soil organisms to use the residues and thrive.
ROOT VS. ABOVEGROUND RESIDUE CONTRIBUTION TO SOIL ORGANIC MATTER
Roots, already being well distributed and in intimate contact with the soil, tend to contribute a higher percentage of their weight to the more persistent organic matter ("dead" and "very dead") than above-ground residues. In addition, compared to aboveground plant parts, many crop roots have higher amounts of materials such as lignin that decompose relatively slowly. One experiment with oats found that only one-third of the surface residue remained after one year, while 42% of the root organic matter remained in the soil and was the main contributor to particulate organic matter. In another experiment, five months after spring incorporation of hairy vetch, 13% of the aboveground carbon remained in the soil, while close to 50% of the root-derived carbon was still present. Both experiments found that the root residue contributed much more to particulate organic matter (active, or "dead") than did aboveground residue.