Learn about SARE's broader impact on soil health in the United States.
We need to change the regional conversation around cover crops, farming 'norms' and soil health. The best way to do that is to support people willing to experiment.

Robin Moore, Land Stewardship Project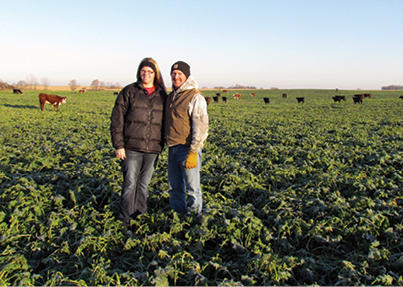 The Challenge
Cover crops are increasingly recognized as one of the most indispensable soil health tools available to farmers. A national survey of farmers funded in part by SARE found that of those who use cover crops, 86 percent see an improvement to soil health, and that yields of corn, soybeans and wheat are all higher following cover crops. Yet cover crop adoption in northern Minnesota has lagged behind other parts of the Midwest, mostly due to a difficult climate and lack of local demonstration and knowledge of how to use cover crops effectively. Is the added expense and time of growing cover crops worth it? Will the effort and cost pay off in soil health, organic matter, forage and soil retention? Can farmers work together to answer these questions?
The Actions Taken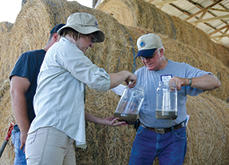 Using a 2014 SARE Farmer/Rancher grant, eight western Minnesota farmers willing to experiment with cover crops set out to answer these tough questions. The network split the grant funds to cover the cost of cover crop seed and Haney soil testing, as well as their time hosting educational field days. Each farmer planted cover crops to determine if the added time and expense would result in better soil health, reduced tillage, and better soil retention and water management. Some of the farmers who raise livestock looked at the forage benefit of cover crops. Robin Moore of the Land Stewardship Project worked with the network to help them understand the soil test results and to organize field days and meetings.
The Impacts
Through their SARE-funded project, the farmer participants learned through trial and error what does and does not work for their own operations. They gained knowledge on how to build soil health with the guidance of soil testing. "The grant took a little bit of risk off our plate and allowed us to experiment on more acres," said Taylor Morical, a farmer participant who has moved to North Dakota since the completion of the project and is now a rancher. "We were willing to try a few more things and reach outside the box with species we wouldn't have used otherwise."
Profitability: Farmers reported financial benefits. Greater use of the land generates more dollars, especially when cattle can graze longer and require less supplemental feed.
Outreach and adoption: Participants hosted three field days, with a total of more than 100 attendees, 70 percent of whom indicated they intend to experiment with cover crops on their operations.
Long-term commitment: Six of the eight original farmer participants purchased their own drill, signaling their commitment to continue cover cropping.
A growing network: By the end of 2016, the network had expanded from eight to 21 farms.
Learn More
Visit the database of project reports to learn more about this SARE-funded project: FNC14-964.