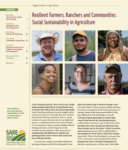 Resilient Farmers, Ranchers and Communities: Social Sustainability in Agriculture
When Nfamara Badjie, Dawn Hoyte and other family members started Ever-Growing Family Farm in Upstate New York in 2014, they had an improbable vision: that they could grow rice well enough to allow at least one of them to eventually leave their off-farm job and work full time on the farm. Rice is a nearly […]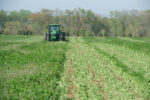 Managing Stress
Farming and ranching are stressful businesses. One key metric of a farm's sustainability is its capacity to provide a quality of life that meets one of our most basic human needs - good mental health. This page highlights successful SARE-funded projects that are using innovative strategies to help farmers and ranchers manage stress.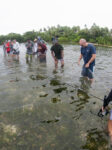 Understanding and Measuring Social Sustainability
This SARE brief defines social sustainability and illustrates how it can be addressed more clearly in SARE projects. Sample projects and quality of life indicators are provided to help grant-seekers and reviewers think broadly about understanding, measuring and describing the social impacts of research and education projects.