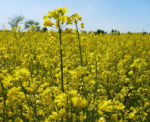 Sustainable Production and Use of On-Farm Energy
Using solar or wind energy or producing biofuels from crop feedstocks and anaerobic digestion helps farmers achieve energy independence while improving profitability and reducing fossil fuel emissions.
Exploring Energy Efficiency and Alternatives Curriculum
According to Sarah Hamlen, Montana State University Extension, and Milton Grieger, University of Wyoming Extension, Western producers' profitability is closely linked to the consumption and production of energy resources. Decisions made by these producers on energy issues have long-term implications for the sustainability of agricultural production, they assert. To increase producers' knowledge of energy issues, […]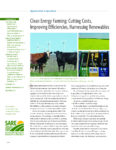 Clean Energy Farming
Clean Energy Farming: Cutting Costs, Improving Efficiencies, Harnessing Renewables features innovative SARE-funded research and examples of farmers who are improving energy efficiency while saving money, implementing farming practices that both save energy and protect natural resources, and producing and using renewable fuels.