The educational materials listed on this page are about Stubble Mulching.
Stubble mulching helps control water and wind erosion by leaving the maximum amount of residue from the previous crop—such as wheat, soy or corn—on the soil surface for fallow. This technique is especially useful in dryland cropping systems where residue cover can seal moisture into the soil. Stubble mulching can also be used in a crop rotation following a cover crop. The stubble mulch blade plow is specifically designed to leave as much residue on the field as possible.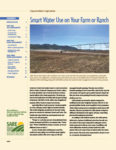 Smart Water Use on Your Farm or Ranch
As producers throughout the nation grow increasingly concerned about water scarcity, farmers, ranchers and agricultural educators are beginning to explore new, conservation-oriented approaches to water use.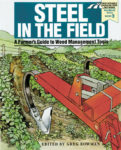 Steel in the Field
Weed control demands time, labor and expense for every farmer every year. Steel in the Field shows how today's implements and techniques can control weeds while reducing—or eliminating—herbicides. Available only online.