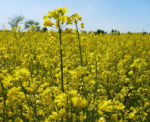 Sustainable Production and Use of On-Farm Energy
Using solar or wind energy or producing biofuels from crop feedstocks and anaerobic digestion helps farmers achieve energy independence while improving profitability and reducing fossil fuel emissions.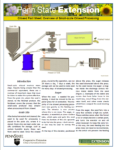 Safe and Profitable Oil Production Fact Sheets
Information on edible oil production for small-scale producers.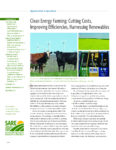 Clean Energy Farming
Clean Energy Farming: Cutting Costs, Improving Efficiencies, Harnessing Renewables features innovative SARE-funded research and examples of farmers who are improving energy efficiency while saving money, implementing farming practices that both save energy and protect natural resources, and producing and using renewable fuels.