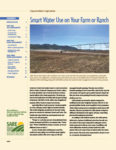 SARE's Smart Water Use Bulletin Highlights Sustainable Water Management
Smart Water Use on Your Farm or Ranch is available for free in print and for download; it is particularly useful to farmers and educators considering innovative approaches to agricultural water use.
Videos from the Field
SARE, in partnership with Cooking Up A Story, has produced a series of how-to videos showcasing production and marketing practices used by some of the nation's most successful sustainable farmers and ranchers.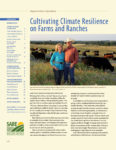 Cultivating Climate Resilience on Farms and Ranches
This bulletin outlines the new challenges that changing weather patterns pose in agriculture throughout the United States, and what you can do to make your farm more resilient.