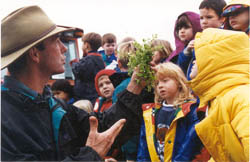 Year-Round Blooming Cycle Attracts Beneficials
In Oregon's Willamette valley, Larry Thompson's 100-acre fruit and vegetable farm blossoms with natural insectaries. "To keep an equilibrium of beneficials and pests and to survive without using insecticides, we have as much blooming around the farm as we can," he says.
Thompson uses cover crops to recruit ladybugs, lacewings and praying mantises in his battle against aphids. Overseeded cereal rye is already growing under his lettuce leaves before he harvests in late summer and fall. "It creates a nice habitat for overwintering beneficials and you don't have to start over from ground zero in the spring," he says.
Between his raspberry rows, Thompson lets his dandelions flower into a food source for nectar- and pollen-seeking insects before mowing them down. Forced out of the dandelions that nurtured them in early spring, the beneficials pursue a succession of bloom. They move first into his raspberries, then his marionberries and boysenberries.
Later in the year, Thompson doesn't mow his broccoli stubble. instead, he lets the side shoots bloom, creating a long-term nectar source into early winter. "The bees really go for that," he says.