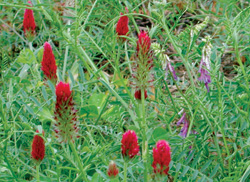 Cover Crops Lure Beneficial Insects, Improve Bottom Line in Cotton
SARE-funded researchers in Georgia seeking new ways to raise healthy cotton — traditionally one of the most pest-plagued, thus one of the most chemically treated commodities — focused on attracting insects that prey on damaging pests. A group of scientists from USDA's Agricultural Research Service, the University of Georgia, and Fort Valley State University planted a variety of flowering cover crops amid cotton rows to test whether their blooms would bring earworm- and budworm-killing predators to minimize the need for insecticides.
Working on seven mid- and southern Georgia cotton farms, the team eliminated one insecticide application by planting legume cover crop mixes that brought predators like the pirate bug, big-eyed bug and fire ants to prey on damaging worms. Using conservation tillage to plant cotton amid the cover crops also improved yields — on average, 2,300 pounds of seed cotton compared to 1,700 pounds on control plots. (Seed cotton weight includes lint and seed before cleaning.)
Growing a mix of balansa clover, crimson clover, and hairy vetch prolonged cover crop flowering from early March through late April and had the added benefit of outcompeting weeds. "With this range of blooming, we're able to start building the beneficial populations early in the season," said Harry Schomberg, an ARS ecologist and project leader. "Reducing one application of insecticides could be pretty substantial on a larger scale like 100 acres." Glynn Tillman, an ARS entomologist who collaborated on the project, found that predator bugs moved from the cover crops into the cotton early in the season, providing more worm control. Moreover, the conservation tillage and cover crop residue resulted in more beneficial soil organisms that likely contributed to better cotton yields.
To demonstrate their results, the team went beyond holding field days. Tillman introduced the promising cotton-cover crop-conservation tillage system to hundreds of thousands attending the Sun Belt Ag Expo in Moultrie, Ga. "It was well received," Tillman said, adding that she fielded many questions from growers, some calling later for more information on adopting cover crops into integrated pest management systems for cotton.
Schomberg cautions that the system requires careful management. In the fall, they seeded alternating strips of cereal rye and legume cover crops. In the spring, they killed the 15-inch-wide strips of rye with an herbicide and followed by planting cotton in the same rows, using conservation tillage. "Spacing is key," he said. "You have to think about and tinker with your planting equipment." Killing cover crops, he added, is easier than killing a diverse population of winter weeds.