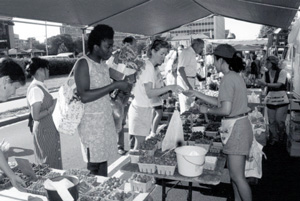 Marketing involves two separate, but inter-related areas – sales and advertising. You will need both areas to work together to effectively market your product. It is ideal to have one person be the decision maker for all of marketing. I have seen a lot of large companies flounder simply because their sales and advertising departments were marching to a different drummer.
SALES BASICS
If you decide that restaurants, stores or distributors are the best avenue to sell your product, then you are going to have to make a sales call. If you have had no experience in sales, like most ranchers, here are the basics.
Make a client list that fits your size, marketing goals and so on. Call a potential client on the phone. You will probably get a secretary on the line. Tell him or her that you are John Smith from John's Natural Beef Company and you are interested in get-ting your beef into their restaurant or store or catalog and ask to whom you should speak. Be very, very nice to the secretary or receptionist. A secretary or receptionist can be a huge ally or a huge enemy. Thank him or her profusely for the help. Make a note of his or her name, the contact's name, and get the right spellings. Ask for the contact by name after that. You may have to speak with three or four people to get the right one.
Before you go to your appointment, do a little homework. Visit the store or restaurant. Look at their customers. Look at what products they offer and how much space they are given. Find out how long they have been in business. Anything that you learn will help you in your discussion with your potential client.
Practice on an unlikely client. Go in like you expect to do well, but use it as an opportunity to learn how to make a call.
When you get to your appointment, you want to have the following items with you, and four or five sets of each – your brochure, business card, a price list with all items that are available and a proposal. The proposal should state exactly what items you want your client to carry and all pertinent information. This may include delivery information, ordering information, scheduling and sales support material availability.
Bring two sets of product samples. Do not charge them for their samples. The client will expect the samples to appear exactly as the product they will be selling or distributing, down to the last comma on the label. Make sure the samples are perfect. If you are going to sell a frozen product, make sure it is frozen hard. Bring the samples in a pristine ice chest. That one you take to the lake that smells like fish should stay home. Dress like a rancher, but a clean rancher.
Send a thank-you letter to the prospective client a few days later. Say that you will call in a few days to see how he or she liked your product. Then follow up promptly and you are off and running.
If the client is not interested in your product, don't hesitate to ask why. Ask if he or she knows someone who may be interested in what you have to offer. Tell them you respect their opinion. I have received a lot of useful advice and referrals this way. A few times I've gotten some very powerful people to call friends of theirs and set up appointments for me, merely because I told them that I would really appreciate their advice.
LOGO & SALES SUPPORT MATERIAL
You will need the following materials when you begin: a logo, stationery and a simple brochure. There are three things to remember:
Keep it simple.

Make sure the pieces reflect the taste of the people who will buy your product, not you.

The quality of your materials directly reflects on the quality of your product.
In my 20-plus years in advertising, I've found that most people, including a lot of seemingly intelligent people, use this opportunity to feed their own egos. I cannot count the number of times that I have had a client insist that their company logo needs to be purple (or whatever) – because it is his wife's favorite color. Name your company some-thing that appeals to your customer, use colors that will appeal to your customer, use language that they can understand. Get your own ego out of it. Your expertise is in beef production, not in design.
Spend time figuring out who wants your product and write it down. Take all this information and create an imaginary perfect customer. Revisit that perfect customer every time you need to make a decision about your sales support material.
Keep your look consistent; it will help people recognize you. Your brochure should be consistent with your label. Your label should be consistent with your business cards.
Now that you know who your target customer is, you can have your material designed. Call a community college with a graphic design department, or try a small printing company. They usually have an on-staff designer and they are very reasonable if you also allow them to print the job.
Do not have it done by a relative, or an old baby sitter, or even your spouse. Also, unless you have recently received a large inheritance, do not go to a professional graphic design company or advertising agency. These types of companies will charge you thousands of dollars more than you need to spend when you are starting out.
Your Logo. Don't rush your name and logo. You don't want to invest a lot of money and time into something only to find it's terribly wrong and you'll have to do it all over. Draw up a few of your favorites and put them up where you and, preferably, your target market can look and comment on them every day for about a week (a refrigerator, office cooler, bathroom mirror). After a while, you will see some definite winners emerging and some definite losers. It will make your decision easy.
First you need a name. Make sure that it is relatively short, and keep in mind your target customer. Alan Nation, editor of the Stockman Grass Farmer, believes that you should name it after yourself or your family. The most important aspect of your product is your credibility – and using your name reinforces that belief. It gives you leverage when you sell your company to Ted Turner for billions of dollars. Ted will want to keep Fred Smith as a spokesperson on retainer with Fred's Family Beef for at least 10 years. That sounds like a very good reason to us.
Go with simple graphics. Consider a simple type treatment, perhaps an old woodcut or simple drawing. Leave the tricky symbols to professional graphic designers. Unless done extremely well they usually look dated in a few years. Moreover, logo design can be more costly than you think.
Make it one color. Multi-color anything just adds expense to your printing jobs and makes consistency harder to control. And it will not add to your sales. People expect a great deal of sophistication when they see a complex logo, they won't expect it of you. You just need to look professional and credible.
Brochures. You will probably need a small brochure. People want to know something about who they're buying from. If you keep it simple enough, and don't put in pricing (which can change often), you will be able to use your brochure for a lot of things. The most cost-effective size is 8½ x 11 inches, folded twice so that it fits in a number 10, business-sized envelope. Make it one color, but do include a photo of yourself, or the family, if they work in your business at all. It adds little to the cost and it helps people identify with you. Have the photo taken with a digital camera if possible, so that you can email the photos along with your copy when sending your brochures to a printer, as well as to the media when soliciting coverage.
Have a professional take photos. You probably know someone who has shot some good wedding photos who will trade for some beef. Also, take some extra shots: one of you alone, some with your whole family. Dress in work clothes and pay attention to what is in the background. A horse or a barn and rolling hills is better than your wife's Toyota. You can always use some for your company's holiday cards or send some to Acres magazine when they do that article on you being a fabulous success.
Tell a little about yourself in the brochure. The most important thing to talk about is what this product will do for the customer. Mention the health aspects, the food safety issues, and how your product is better for the land. Describe your humane treatment of animals, how your ranching practices benefit endangered and threatened species, or how your customer's purchasing of a local prod-uct eliminates petroleum use.
Use recycled paper when you print, and have the printer include the appropriate recycled symbol in the bottom corner. The folks who will pay more for a natural, organic or grass-fed product expect you to have environmentally sensitive stationery, too.