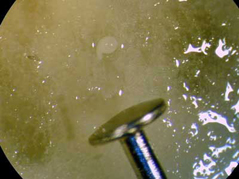 In mid-Atlantic vegetable fields, more than one species of parasitic nematode often are present; therefore, strategies to minimize damage from more than one species are necessary. Castor bean and the RKN-resistant soybean 'Manokin' reduce RKN populations and root galling. However, only sorghum sudangrass reduces RKN and also root-lesion nematode. In addition, incorporation of poultry litter (PL) or PL compost in combination with production of sorghum sudangrass as a cover crop provided the most consistent reduction in root-lesion nematode, although variation in the response did occur across years. This variation was likely due to:
1) Differences in soil environments across locations and years that impact microbial or
nematode activity, or
2) The generation of nematicidal compounds in response to organic amendments.
Addition of PL or PL compost may result in longer-lasting nematode suppression than cover crops alone. For example, carry-over suppression of nematodes was observed where PL compost was combined with a sorghum sudangrass cover crop. Combining a cover crop with addition of PL that has been composted prior to application will mitigate nutrient loss potential in fields prone to runoff.
Field Procedure
Amendments of PL or PL compost may be applied in mid July following early season vegetable crop harvest and before a cover crop is planted. Effective rates varied from 2,500 lb to 7,000 lb/acre PL and 10,500 lb to 31,000 lb/acre PL compost.