The USDA's NRCS, Risk Management Agency (RMA) and Farm Service Agency (FSA) came together in 2014 to develop standardized termination recommendations for non-irrigated cover crops in four different regions or zones in the United States [12]. They sought recommendations that would achieve optimal balance between conservation benefits and soil water conservation for cash crops, and would provide consistent guidance for cover crop policy across the three agencies. For the purpose of crop insurance, cover crops must be terminated according to these recommendations in order for the following crop to receive insurance coverage.
California and the Intermountain West (zone 1) require the longest gap between cover crops and a cash crop, with a recommended cover crop termination date at least 35 days before planting. For much of the country's bread basket, the Central Plains (zone 2), farmers should terminate the cover crop at least 15 days before planting. In the eastern prairie states and south Florida (zone 3), cover crops can be terminated at planting. Finally, in the eastern states (zone 4), growers can terminate cover crops up to five days after planting, but before cash crop emergence.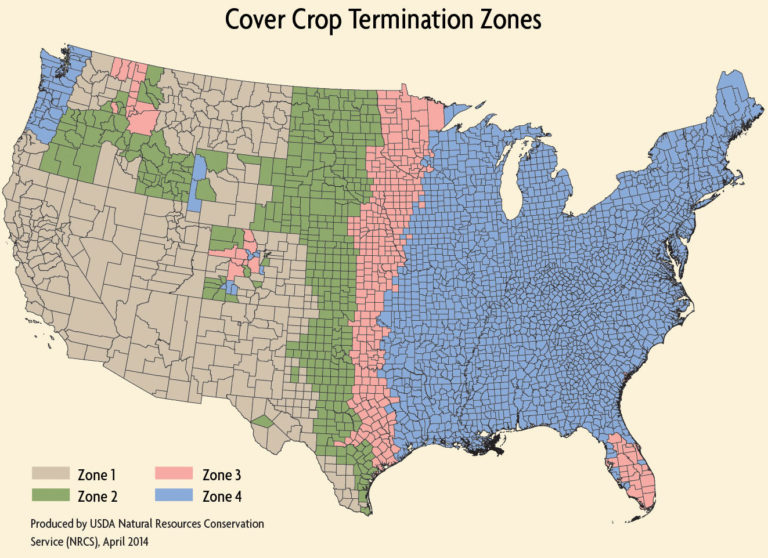 A major challenge of these rules is the loss of pollen and nectar resources when cover crops are terminated before they have fully bloomed. Even when partial bloom occurs, rapid termination of that bloom results in boom and bust conditions for insects. To mitigate some of the impact of early termination, consider supplementing cover crops with other pollen and nectar resources such as hedgerows, permanent wildflower meadows, or other high-quality natural areas. Similarly, consider leaving small sections of the field (even a single outer row) in the cover crop, rather than terminating it entirely. Even such small sections can help sustain pollinators in the absence of other forage sources.
For current guidance on cover cropping and federal crop insurance, consult your local NRCS office or crop insurance program agent, or see "NRCS Cover Crop Termination Guidelines" [12] in the References section.