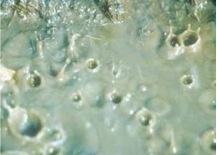 Processes like erosion, soil settling, and compaction are affected by soil moisture conditions, and in turn affect soil hardness and the stability of aggregates. When soil is saturated and all pores are filled with water, the soil is very soft. (Fungal hyphae and small roots also serve to form and stabilize aggregates deeper in the soil.) Under these saturated conditions, the weaker aggregates may easily fall apart from the impact of raindrops and allow the force of water moving over the surface to carry soil particles away (figure 5.9). Supersaturated soil has no internal strength, and the positive water pressure in fact pushes particles apart (figure 5.10, left). This makes soil very susceptible to erosion by water flowing over the surface or allows it to be pulled down by gravity as land (mud) slides.
As soil dries and becomes moist instead of wet, the pore water remaining in contact with solid surfaces becomes curved and pulls particles together, making the soil stronger and harder (figure 5.10, middle). But when soils low in organic matter and aggregation, especially sands, are very dry, the bonding between particles decreases greatly because there is little pore water left to hold the particles together. The soil then becomes loose and susceptible to wind erosion (figure 5.10, right).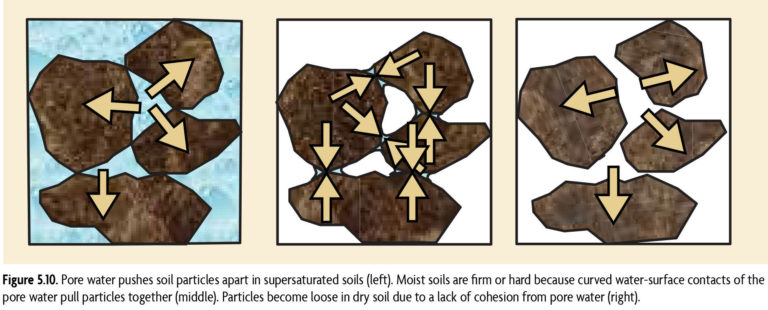 Strong aggregation is especially important during these moisture extremes, as it provides another source of cohesion that keeps the soil together. Good aggregation, or structure, helps to ensure a high-quality soil and prevents dispersion (figure 5.11). A well-aggregated soil also results in good soil tilth, implying that it forms a good seedbed after soil preparation. Aggregation in the surface soil is enhanced by surface residue and lack of tillage. Also, a continuous supply of organic materials, roots of living plants, and mycorrhizal fungi hyphae are needed to maintain good soil aggregation.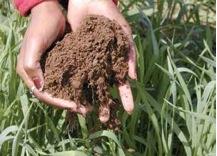 Surface residues and cover crops protect the soil from wind and raindrops and moderate the temperature and moisture extremes at the soil surface. On the other hand, an unprotected soil may experience very high soil temperatures at the surface and become extremely dry. Worms and insects will then move deeper into the bare soil, resulting in a surface zone that contains few active organisms. Many bacteria and fungi that live in thin films of water may die or become inactive, slowing the natural process of organic matter cycling. Large and small organisms promote aggregation in a soil that is protected by a surface layer of crop residue cover, mulch, or sod and has continuous supplies of organic matter to maintain a healthy food chain. An absence of both erosion and compaction processes also helps maintain good surface aggregation.
The soil's chemistry also plays a role in aggregate formation and stability, especially in dry climates. Soils that have high sodium content (see chapters 6 and 20) pose particular challenges.