Learn about SARE's broader impact on pest management in the United States.
"The ecosystem services alone are of such a high value to our greater agricultural system that this approach should become the norm, not the exception."
Robin Dobson, Meadowlark Vineyard
The Challenge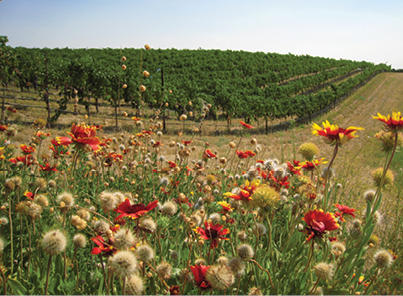 Over the past decade, winegrape growers in Eastern Washington—which produces more wine than every state but California—have dramatically cut their use of insecticides and miticides, largely thanks to general improvements in integrated pest management (IPM) techniques. But to further reduce their use of pesticides and to enhance the image of Washington wine as a "green industry," growers are seeking more information about conservation biological control strategies, namely how to incorporate wildflower habitat on their vineyards to attract beneficial insects, pollinators and butterflies. Knowledge of native plant species that best attract these beneficial organisms is limited, leaving farmers guessing what to plant when they want to further improve the ecological sustainability of their vineyard.
The Actions Taken
Partnering with 10 producers in four wine-growing regions, Washington State University researcher David James led a four-year SARE Research and Education grant project to study the role of native habitat restoration (NHR) in attracting beneficial organisms, and to identify the flowering plant species best suited to do the job.
The team monitored vineyards with natural or restored native habitat and compared them to others with little or no natural habitat that served as controls. They monitored arthropod populations to compare the abundance and seasonality of pests, natural enemies, butterflies and bees. They also evaluated more than 100 native flowering plant species for their attractiveness to beneficial organisms in order to support grape growers in making informed choices on what to plant to improve efficacy and sustainability of biological control and IPM while supporting pollinators, predators and parasitoids.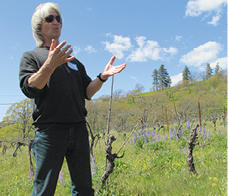 The Impacts
More beneficial organisms: Data shows that beneficial insect and mite abundance is greater in vineyards that have enhanced native flora and habitats than in those that do not encourage native plants.
Lower pesticide use: Habitat-enhanced vineyards did not need to spray insecticides or miticides during the course of the study, whereas control vineyards required one to two sprays. The cost per spray was at least $50 per acre.
Access to new information: A native plant manual for Washington winegrape growers is now in the works to assist them in choosing the right plants for their vineyard NHR plans. Numerous conference sessions, field days, seminars and articles have spread the word about the efficacy of NHR on winegrape vineyards to improve IPM and conserve specific butterfly and bee species, among other beneficial insects.
Learn More
Visit the database of project reports to learn more about this SARE-funded project: SW10-052.