Showing 301-302 of 302 results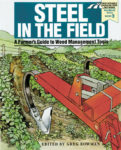 Steel in the Field
Weed control demands time, labor and expense for every farmer every year. Steel in the Field shows how today's implements and techniques can control weeds while reducing—or eliminating—herbicides. Available only online.
Systems Research Methods Handbook
A concise, advisory handbook prepared for Southern SARE outlining systems research methods and objectives, with additional resources.