The SARE Fellows program provides an immersive educational experience for participants to enhance their understanding of sustainable agriculture through broad-based training and interpersonal interactions at unique agriculture operations nationwide. Participating Fellows build professional relationships, improve their teaching and technology transfer skills, and are better prepared to develop programs that meet the needs of their local agricultural communities.
The program aims to:
Provide an immersive educational opportunity for agricultural professionals who work with farmers and ranchers.
Enhance agricultural professionals' capability to conduct sustainable agriculture education programs and maintain advisory relationships with farmers and ranchers.
Develop leaders committed to sustainable agriculture.
Increase agricultural professionals' networks in the field of sustainable agriculture.
Increase agricultural professionals' awareness about current and future program opportunities in sustainable agriculture.
Program Details
I really loved the variety of farms that were featured and how they all had a different concept and direction in sustainable agriculture, but were united by common themes. The differences are real and significant, but listening to the farmers talk about their role of stewarding the land and soil brought the concept of sustainable agriculture together for me, as they were united by a common passion of producing food for people today and doing the best to managed the resources to provide for future generations. I really appreciated the opportunity to see first hand this range of operations and talk with the farmers who manage them.

Tom Buller, Kansas Rural Center
The Fellows program is a two-year commitment and participants are selected on a competitive basis. Each year, one individual from each of the four SARE regions is chosen resulting in a total of eight Fellows participating in any given year.
State-based study tours are the core of the program. The tours are three to four days long, and are held every spring and fall. They occur in each region on a rotating schedule, so that each Fellow visits all four regions during their two-year program. Specific dates are chosen by the host state with input from the participants. Selected Fellows agree to participate in all four study tours over the two-year period.
After completing the program, the graduating class of Fellows facilitates a "Reading the Farm" super seminar and farm tour at the National Association of County Agricultural Agents (NACAA) annual meeting.
All travel, meal, and lodging expenses will be covered by the program. Additionally, participants receive a complete SARE library and are eligible for a $1,500 stipend after successful completion of all four study tours. Stipends must be used for program support in their own professional outreach activities, which will require a plan of work and final report.
For more information see SARE Fellows Program Eligibility and Application.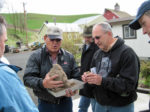 SARE Fellows Program Eligibility and Application
Find out if you are eligible to be a SARE Fellow and learn how to apply to the program.  

Meet the Fellows
Every year since 2007, this two-year educational experience in sustainable agriculture has been offered to four stellar Extension workers. Learn about past and current Fellows.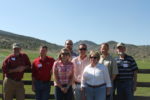 Program Highlights
Read how past and current Fellows' experiences are shaping their knowledge of sustainable agriculture.