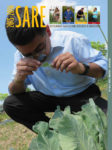 2015/2016 Report from the Field
Read about SARE-funded work in the areas of sustainable dairy cropping systems, soil health assessments, nutrient management, cover crops, beginning farmers, pollinators, technical assistance programs for women farmers, and more. This edition includes highlights of projects funded through the graduate student program, and the highly regarded Sustainable Agriculture Fellowship, a professional development program coordinated by SARE and NACAA.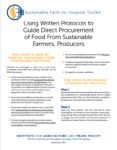 Farm to Hospital Toolkit
Tools farmers and hospitals can use to increase direct hospital purchases from local producers.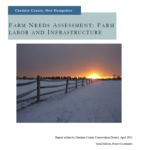 Cheshire Labor and Infrastructure Needs Assessment
Research in Cheshire County, NH to determine how to promote the economic viability of local farmers.