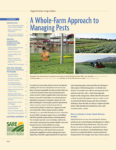 A Whole Farm Approach to Managing Pests
This 16-page bulletin helps producers—and the educators who work with them—use ecological principles across the entire farm to control pests.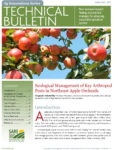 Ecological Management of Key Arthropod Pests in Northeast Apple Orchards
Apples are an important crop in the Northeast, grown for both fresh market and processing. Growers have a challenging task managing insects, mites and diseases. By some estimates, growers may spend up to 25 percent of their production costs on pest management. This technical bulletin outlines strategies developed from SARE-funded projects in Massachusetts and Pennsylvania, including biologically based pest control, orchard architecture and development of materials approved for organic production.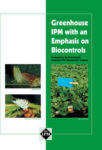 Greenhouse IPM with an Emphasis on Biocontrols
This in-depth manual was designed to help commercial greenhouse growers implement biological control and integrated pest management (IPM).