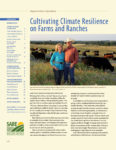 Cultivating Climate Resilience on Farms and Ranches
This bulletin outlines the new challenges that changing weather patterns pose in agriculture throughout the United States, and what you can do to make your farm more resilient.
Iowa Student Studies Woodchip Bioreactors for Nitrate Reduction in Agricultural Drainage
Tile drainage reduces soil moisture levels for optimal crop growth, but there is concern about nitrate loss from these systems. Because the water quality of regional streams, rivers, and lakes can be negatively impacted by nitrate in drainage, researchers at Iowa State University are studying several practices that can be done to reduce the amount […]
Rainwater Catchment from a High Tunnel for Irrigation Use
This Iowa State University video/fact sheet describes how to build a system to catch, store and reuse the rainwater for high tunnel irrigation.