Biodiesel
This fact sheet series examines biodiesel from oilseed processing, to biodiesel conversion, consumer issues and economics.

The New American Farmer, 2nd Edition
Hailing from small vegetable farms, cattle ranches and grain farms covering thousands of acres, the producers in The New American Farmer, 2nd edition have embraced new sustainable approaches to agriculture.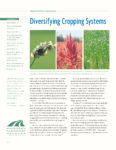 Diversifying Cropping Systems
This bulletin describes some of the many agronomic crop alternatives to use in rotations, with plentiful examples of on-farm successes.