Agroforestry Practices, Planning, and Design
Developed by the The Center for Agroforestry at the University of Missouri in 2013, the Training Manual for Applied Agroforestry Practices and the Handbook for Agroforestry Planning and Design are companion pieces that provide easy-to-use information about agroforestry.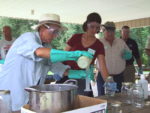 Sustainable Bioenergy Course
In association with an NCR-SARE Professional Development Program grant, the Bioenergy Training Center, in collaboration with the Farm Energy CoP, has developed a Sustainable Bioenergy Course to provide educational training resources focused not only on the technical feasibility of bioenergy generation, but also on approaches and processes that assist communities in understanding the comprehensive implications of bio-based alternative energy. This course can provide foundational materials for teaching undergraduates or for community education sessions.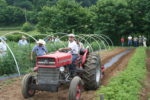 Helping Appalachian Farmers Tap New Markets
Gary and Cindy Laws' journey to successful organic farming started in the tobacco fields of western Virginia's hill country. Both raised on tobacco farms, they saw the crop's pitfalls firsthand: a declining market, health risks associated with smoking and, most importantly to the Laws, the myriad chemicals used in tobacco production. But, like hundreds of […]