An indicator is an observed or measured variable that reflects the state of a system (Mayer, 2008). In agricultural systems, crop health is monitored using indicators such as plant architecture and leaf color and shape. Farmers use quantitative soil tests, soil color and surface texture, amount of runoff, and the "feel" of tillage (e.g., how hard the tractor has to work during plowing) to evaluate the status of their soils. The presence or absence of certain weedy species can also be used as an indicator of soil nutrient status.
Sustainability Indicators and Indices: Practical Considerations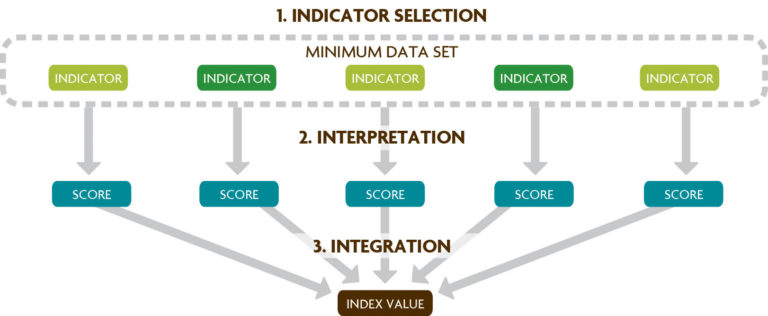 An "indicator framework" is an organizational strategy for grouping many indicators together to assess the state of a complex system. For example, income, access to social services and land tenure could be used to determine farm-family quality of life, and soil fertility, climate, and yield stability could be used to measure farm productivity.
Because a single indicator cannot fully represent a multidimensional entity such as an agricultural system (Meadows, 1998; Mayer, 2008), system assessment frameworks often rely on multiple indicators. Indicators can be aggregated into an "index" using algorithms (Mayer, 2008) and techniques such as averaging, ratios and principal components analysis (Mayer, 2008). Figure 4.7 shows a conceptual diagram of indicators being scored and combined into an index that provides quantifiable information about a system, in this case, soil health. (Andrews et al., 2004).


Andrews et al. (2004) used this method to "operationalize" soil health (i.e., to specify qualities that can be quantified by measurable indicators). They defined three soil management goals—productivity, waste recycling and environmental protection—and linked these goals to six soil functions that could be quantified by measurable indicators (Figure 4.8). For example, functions such as "physical stability and support" can be quantified by measuring bulk density, water-stable aggregates, porosity, and/or soil strength. This indicator framework enabled the vague concept of soil health to be operationalized and compared across different management regimes (Andrews et al., 2004). Such frameworks or indices are key to comparing and evaluating complex, multidimensional systems.
To operationalize the broader concept of sustainability, comprehensive frameworks and indices are used to evaluate the ecological and social sustainability of agricultural systems. Many excellent books (Jørgensen et al., 2009) and reviews (Mayer et al., 2004; Mayer, 2008; Speelman et al., 2007) detail these efforts.