The SARE Sustainable Agriculture Fellows program enhances understanding of sustainable agriculture through broad-based training and hands-on exposure to successful and unique sustainable agriculture operations nationwide. Participating Fellows build professional relationships, improve teaching and technology transfer skills, and are better able to create new programs that meet the needs of their local clientele.
The program aims to:
Provide an intensive learning opportunity for extension professionals who work with farmers and ranchers.
Enhance selected fellows' capability to conduct sustainable agriculture education programs and maintain advisory relationships with farmers and ranchers.
Develop leaders committed to sustainable agriculture.
Increase extension professionals' networks in the field of sustainable agriculture.
Program Details
The Fellows program is a two-year program with four Fellows selected each year. A total of eight Fellows will participate in any given year. During the selection process, one person will be selected from each of the four SARE regions each year on a competitive basis.
There will be two training experiences each year. In this manner each Fellow will visit each SARE region during their two-year program. The training will occur in the spring and fall each year with the specific date determined by the host state, with input from the participants. If selected, Fellows agree to participate in all four trainings over the two-year period.
All travel, meal and lodging expenses will be paid to attend each training in the selected region. Incidental expenses will be the responsibility of the participant.
After completing the two year program, the graduation class facilitates a "Reading the Farm" program and farm tour at the National Association of County Agricultural Agents annual meeting. All travel, meal and lodging expenses will be paid.
Participants will receive a complete SARE library courtesy of the SARE Outreach Office as well as a $1,500 stipend after successful completion of all four training programs to be used for program support, materials and supplies. Funds will be released to participants upon receipt of an approved plan of work and a budget detailing how the funds will be spent. A final report of how funds were expended, accompanied by the appropriate documentation and receipts are required.
Support provided by the Sustainable Agriculture Research and Education (SARE) program with funding from the National Institute of Food and Agriculture, U.S. Department of Agriculture. The availability of this program will be dependent upon the consent of USDA SARE and the availability of funds.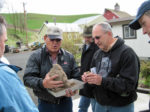 Eligibility/Application
Find out if you are eligible to be a SARE Fellow and learn how to apply to the program.  

Meet the Fellows
Every year since 2007, this two-year educational experience in sustainable agriculture has been offered to four stellar Extension workers. Learn about past and current Fellows.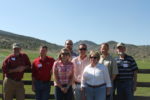 Program Highlights
Read how past and current Fellows' experiences are shaping their knowledge of sustainable agriculture.