Edible Avalon Curriculum
This summer program curriculum teaches youth about local food systems and sustainable agriculture.
Cooperative Extension Farm to School Resources
Farm to School resources available from ASAP in North Carolina.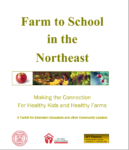 Farm to School Training Toolkit
Resources for ag educators and community leaders who are starting a farm to school program.