Showing 21-23 of 23 results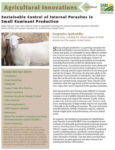 Sustainable Control of Internal Parasites in Small Ruminant Production
Small ruminants (sheep and goats) are adaptable to many different production systems and can be raised with relatively few inputs, but they face huge production challenges. Control of internal parasites, especially gastrointestinal nematodes including Haemonchus contortus (barberpole worm, stomach worm), is a primary concern for many sheep and goat producers and is particularly challenging in humid regions.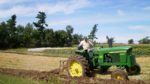 Energy Independence: On-Farm Biodiesel Fuel Production
Roger Rainville is ahead of the curve when it comes to reducing costs on his farm near Alburgh, Vt. He's currently producing biodiesel from canola and sunflower for about $1.70 a gallon.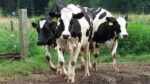 Sustainable 12 Aprils Dairy Grazing
When rising feed costs threatened to put his once-successful confined feeding dairy out of business, Tom Trantham made the switch to a pasture-based rotational grazing system, and now his operation has never been stronger.